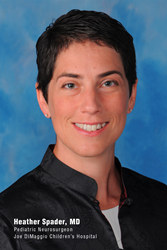 (PRWEB) November 30, 2015
Stress, anxiety, illness, infection or even a need for eyeglasses can sometimes cause headaches, but when should a parent worry about possible tumors?
Heather Spader, MD, a new pediatric neurosurgeon at Joe DiMaggio Children's Hospital in Hollywood, Florida, said that while headaches in children are common, some signs might point to tumors.
"Bad headaches that don't go away, that don't have any other reason, even after you've seen the pediatrician and ruled out everything else — those are the headaches that we worry about," says Spader, who joins the hospital's Division of Pediatric Neurosurgery.
Such inexplicable headaches that worsen over time are among the symptoms of brain tumors. Other symptoms include: nausea, vomiting, unusual eye movements, blurred vision, balance problems, behavior changes, seizures, drowsiness or coma.
"It's also relatively unusual for kids to lose coordination in a sport or activity done before," says Dr. Spader. But the key is: Check with your pediatrician, and rule out everything else first.
Dr. Spader, a board-eligible neurosurgeon, earned her medical degree in 2007 from Sanford School of Medicine at the University of South Dakota in Vermillion, South Dakota, where she graduated summa cum laude.
Dr. Spader then completed an internship in surgery in 2008, her residency in neurosurgery in 2013, and served as chief resident of neurosurgery in 2014 — all at Rhode Island Hospital through Brown University's Warren Alpert Medical School, where she had also served as an instructor in Brain Sciences and a guest lecturer in Neuroanatomy.
She completed fellowship in pediatric neurosurgery in 2015 at Primary Children's Hospital through the University of Utah in Salt Lake City, Utah.
To learn more about Joe DiMaggio Children's Hospital's Pediatric Neurosurgery