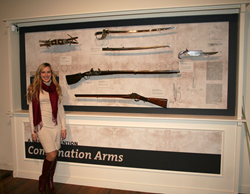 The Center is honored to display these treasures from this historic collection.
Cody, Wyoming (PRWEB) December 01, 2015
The Buffalo Bill Center of the West, an Affiliate of the Smithsonian Institution, reopens its popular "Journeying West: Distinctive Firearms from the Smithsonian," just in time for the Center's annual Holiday Open House, Saturday, December 5. On view since May 4, 2013, in the lower gallery of the Center's Cody Firearms Museum, the exhibit now moves to a new space in the center of the museum's main gallery.
Continuing the Center's relationship with the Smithsonian, this is the second loan from the National Firearms Collection. The Center's 2013 exhibit originally opened with 64 firearms; the new loan retains 42 arms from the original loan and adds 8 new objects.
"In 1876, the Smithsonian's National Museum of American History established the National Firearms Collection—now grown to nearly 7,000 objects—in honor of the American Centennial," Hlebinsky explains. "This exhibit includes a video of the Smithsonian's actual gun vault, courtesy of the Smithsonian Channel--a film clip visitors are sure to find fascinating.
"The Center is honored to display these treasures from this historic collection. In the new space, visitors will immediately notice that the exhibit has more interpretation than before, particularly with respect to the history of particular firearms and their owners," Hlebinsky says.
New items in the updated space include TV's Hawaii Five-0 star Steve McGarrett's Colt Cobra and shoulder holster along with a flintlock grenade launcher, and a sword revolver. Finally, the more prominent location gives far more access to visitors.
The Smithsonian exhibit trades places with the Browning Firearms exhibit. The updated display opens simultaneously in the larger space previously occupied by the Smithsonian exhibit. The exhibit focuses on Browning's prototypes with a graphic production timeline.
Hlebinsky is on hand at the Holiday Open House to give visitors a first look at the new exhibits. She's stationed at 10 a.m. and 1:30 p.m. in the Smithsonian area, and 11 a.m. in the Browning exhibit. For more information about the Cody Firearms Museum, contact Hlebinsky.
_____________________________________________________________________________________________________________________________________
Since 1917, the award-winning Buffalo Bill Center of the West in Cody, Wyoming, has devoted itself to sharing the story of the authentic American West. The Center, an affiliate of the Smithsonian Institution, begins its winter schedule on December 1 when it opens 10 a.m. – 5 p.m. Thursday – Sunday, closed Monday - Wednesday. For additional information, visit the Center's website or its pages on Facebook and Google+.