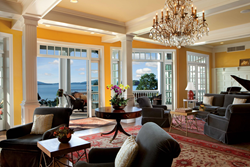 (PRWEB) November 30, 2015
Forget the Presidential Suite. Don't even think about the Penthouse Suite. They simply aren't good enough because the Sagamore Resort is one upping the competition by offering the most premier experience available – a key to the entire resort.
Introducing The Key to Luxury Experience at the Sagamore Resort. This exclusive experience allows up to 10 guests to stay at the resort for one-night of sheer indulgence and opulence. This unbelievable opportunity is completely customizable and offers the once-in-a-lifetime opportunity to party like a rock star.
For one magic night, the key of the luxurious 137-room hotel in the heart of the majestic Adirondacks will be handed over to one VIP guest and up to 9 companions. A full staff will attend to the group to plan winter activities, create signature cocktails (and serve them anywhere in the hotel), make fires and keep them crackling and much, much more. The staff will be on call for the entire 24 hours to ensure each and every desire is met. They can plan private yoga and fitness classes, make sure the indoor pool is set to the desired temperature and be ready to wrap guests in fuzzy bathrobes when they step out of the Jacuzzi.
The Executive Chef can plan any menu and serve it anywhere in the hotel. A ten-course dinner with fabulous wine pairings? A pleasure to arrange. Extravagant brunch with Champagne, served to guests in PJ's? Sounds like a plan. Smore's by the bonfire? Coming right up! The Sagamore will assist in planning a getaway that exceeds all dreams and expectations.
In the majestic Historic Hotel, everyone can spread out and have their own Suite offering picturesque views of Lake George. The Key to Luxury Experience starts at $25,000 for a group of 10 people, all-inclusive. It is available December – March, Sunday – Thursday and is based on availability. Some restrictions apply. Holidays and school vacation weeks are excluded. Additional guests can be added for $2,500 per person.
To book this exclusive experience, please call 518-644-9400 and ask for the General Manager or Assistant General Manager who will personally assist in your reservation.
For more information on the Sagamore go to http://www.thesagamore.com