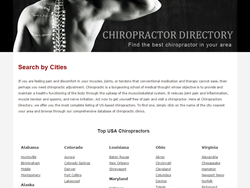 Minneapolis, MN (PRWEB) November 30, 2015
An extensive directory of chiropractors has recently been launched at http://www.chiropractic-care.net. The directory is specialized and only includes chiropractic clinics in the US.
The team at Chiropractic-Care.net understands how important it is to find a competent and trustworthy alternative health practitioner when back pain sets in. When people are experiencing back and neck pain, the task of finding a chiropractor can be especially confusing given the numerous clinics that all boast of quality chiropractic care.
Chiropractic-Care.net's directory of chiropractors was created to provide individuals and families with a one-stop solution to finding a chiropractor who they can rely on. Chiropractic-Care.net makes the challenging process much simpler and more convenient by listing reputable chiropractic clinics and arranging them according to the city and state that they serve.
Although there are many other chiropractor directories available on the Internet, Chiropractic-Care.net takes a simpler approach. The website is clean, easy to navigate, and free of advertisements. Since visitors may be overwhelmed when going through a list of hundreds of clinics, the directory keeps things simple with a short, list of top chiropractors in a particular area.
When visitors go to the directory, they will see a list of states and cities, and simply have to select the location nearest to them. They will then see a shortlist of the clinics in that city, along with their respective addresses, phone numbers and more. A brief background of the clinic and its treatment areas is also provided.
Through Chiropractic-Care.net, the search for a quality chiropractor becomes less daunting, enabling individuals to be linked to the professional help they desperately need.
Chiropractic-Care.net is part of a portfolio of medical directories which also include http://www.cosmeticdentistdir.com, http://www.plasticsurgerydir.com and http://www.medicalspadir.com