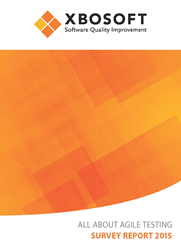 "All about agile: What works, what doesn't – and what lies ahead."
Reston, VA (PRWEB) November 30, 2015
XBOSoft has released its All About Agile Testing Survey Report 2015 to the software testing and QA industry. The survey, conducted earlier this year in response to the growth in popularity of the software development methodology, provides an in-depth look at the state of agile, agile testing methods and techniques, and the use of agile in business.
The XBOSoft report analyzes survey response from an audience of software testing and development industry professionals. Participants responded to questions regarding agile and agile implementation including challenges and successes met in conversion, agile methodology and technology used, testing preferences and success rates, automation and outsourcing. The report provides additional expert insights and takeaways into agile use.
A complimentary copy of the All About Agile Testing Survey Report 2015 can be downloaded here http://xbosoft.com/all-about-agile-testing-survey-report-2015/
XBOSoft regularly produces whitepapers, webinars and case studies with tutorials on various software testing methodologies and services. The software testing and QA company offers a unique blend of expertise in development methods from agile to waterfall to hybrid, and its depth of hands-on experience in a variety of industries gives XBOSoft the ability to tailor and optimize agile to each clients' specific needs. More about Agile Testing from XBOSoft can be found here: http://xbosoft.com/agile-testing/
About XBOSoft
XBOSoft is a software testing and QA company. The company's quality process assessments and test methodologies speed products to market and improve clients' software quality and performance throughout the life cycle. With QA services in web, mobile and desktop applications, XBOSoft offers broad domain experience with extended expertise in healthcare and finance.
Founded in 2006, XBOSoft today has over 100 employees serving both the US and European markets, with offices based in San Francisco, Beijing and Amsterdam. For more visit http://xbosoft.com/