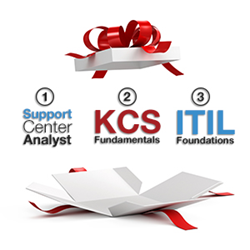 Austin, Texas (PRWEB) December 01, 2015
Certification Game Inc. announced today that they will be launching a "buy one course, give one course for free" promotion today. With the Give the Gift of Knowledge promotion, anyone purchasing a Certification Game course for themselves can also give a free course to a friend or colleague of their choosing. The promotion begins today and runs through December 31, 2015.
To commemorate the launch of two new courses, KCS Fundamentals and ITIL Foundations, the company wanted to do something unique for the ITSM industry by doing a special end-of-year offer. The two new courses join Certification Game's Support Center Analyst course. Both will be launched in December 2015.
Ron Muns, CEO and co-founder of Certification Game, said, "When we first began this company, our mission was to raise the middle class one course at a time, and that still holds true. We're doing this year-end promotion so many IT professionals can kick off 2016 the right way."
Those interested can register on the website or call 512-535-2179. This promotion ends on December 31, 2015.
About Certification Game, Inc.
Certification Game Inc. is an Austin, Texas based company that is focused on building online training courses to prepare learners for professional certifications. The concept of the company is 'Serious Learning, Not So Boring' with a focus on building certification courses that will help the learner qualify for a new job or promotion via professional certifications. Uniquely, Certification Game courses incorporate game mechanics in order to make learning more fun and engaging for the participant. The founders, Ron Muns and Cole Leslie, come from the IT service management and green energy fields respectively.