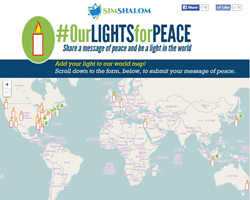 Using the hashtag #OurLightsForPeace people can enter a message of peace connecting to others worldwide.
New York, NY (PRWEB) December 08, 2015
Sim Shalom synagogue founder, Rabbi Steven Blane, began the Chanukah First Night virtual Candle lighting ceremony singing traditional Chanukah songs such as Maoz Tzur, and intertwined them with universal allegorical songs and prayers for peace. The festivities included participants from four continents yet the service was intimate as it travelled across the globe with participation that included a live chat feature. The evening concluded with Rabbi Blane's ballad "Spark" whose lyrics sing of hope "that is forever burning you can see it's in you and it's in me".
The #OurLightsForPeace project, which is free to all, aspires to create harmonious connections during the holiday season celebrated by all faiths and cultures. The world community is invited to participate by placing a candle with a message of peace on Sim Shalom's interactive map as well as using the hashtag #OurLightsForPeace. The map can be accessed here and on the Sim Shalom Facebook page.
Since unveiling the project, participants from Indonesia, Japan, Europe and North America have lit symbolic candles as well as inscribed uplifting messages. Individuals can simply submit their name as they would like it to appear, their location and message. Once a candle is "lit" the candle appears within twenty four hours. Followers can place a cursor over each candle to enlarge and view the connections that are made with details as location and each personal tiding.
A message from North Carolina, reads, "In each of us is a part of all of us." Writing from Java, a message shares, "Let the world live in peace and harmony." From United States to Canada, from Tokyo to Germany, voices echo the world is still a place of miracles of light.
Additionally using the hashtag #OurLightsForPeace people can enter a message of peace connecting to others worldwide from any social media platform and device.
About Sim Shalom and JSLI
Sim Shalom is an interactive online Jewish Universalist synagogue which is liberal in thought and traditional in liturgy. Created in 2009 by Rabbi Steven Blane on Manhattan's Upper West Side, Sim Shalom offers a means of connecting the unconnected. Rabbi Blane leads accessible and short Kabbalat Shabbat services every Friday night using a virtual interface and additionally Sim Shalom provides online education programs, Jazz concerts, conversion and life-cycle ceremonies along with weeknight services at 7:00PM EST led by Rabbis and students of this online community.
Rabbi Blane is also the founder and director of the Jewish Spiritual Leader's Institute, (JSLI), the online professional rabbinical program.
Sim Shalom, a non profit 501 © (3) tax-exempt organization, nurtures a Jewish connection through its mission of innovative services, creative education and dynamic outreach to the global community. For more information visit http://www.simshalom.com or call 201-338-0165.