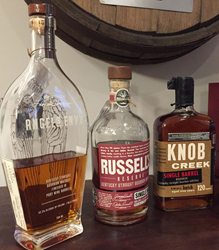 "The expansion of our selection of hand-selected whiskies is a great way for us to provide our guests with an experience they can't find anywhere else," - Lucas Gamlin
St. Louis, MO (PRWEB) November 30, 2015
In less than two years Gamlin Whiskey House, at 236 N Euclid Ave. in St. Louis, Missouri, sold ten barrels of its signature single barrel Knob Creek Bourbon, making them one of the fastest sellers of the spirit. Based on this success, they are expanding their exclusive, hand-selected whiskeys to include four new options.
The three new hand-selected single barrels, and one new signature blend include:

Angels Envy Signature Blend Bourbon ($55 per bottle)
Blanton's Single Barrel Bourbon ($70 per bottle)
Buffalo Trace Single Barrel Bourbon ($55 per bottle)
Russell's Reserve 10-Year Old Single Barrel Bourbon ($60 per bottle)
Each of these, along with the 12th edition of the signature single barrel Knob Creek ($45 per bottle), is planned to be available by the ounce and by the bottle at Gamlin Whiskey House before Christmas.
"The expansion of our selection of hand-selected whiskeys is a great way for us to provide our guests with an experience they can't find anywhere else," says Gamlin Restaurant Group Proprietor Lucas Gamlin. "When we choose these spirits we always think about our guests and what they would enjoy, we can't wait to share these new selections."
Gamlin Restaurant Group Proprietors Lucas and Derek Gamlin, along with Corporate Bar Manager Dustin Parres are responsible for the single barrel, and signature blend selections, which are only available at Gamlin Whiskey House.
"The process for the selection of each barrel is different. For example, a single barrel of Buffalo Trace is a rarity, while Blanton's is only offered in a single barrel. Both processes bring out unique qualities in the whiskeys. Then, we have the Angel's Envy, which is a blend of three different single barrel whiskeys created just for Gamlin Whiskey House," says Parres.
The Angels Envy Signature Blend, Russell's Reserve Single Barrel and a variety of single barrel Knob Creek editions will be available at the home of the Missouri Whiskey Society, the barrel room of Gamlin Whiskey House, on Saturday, Dec. 5 from 10 a.m. – 5 p.m. The shop will also offer a variety of whiskey and vodka based gift options including gift baskets, apparel and more.
###
About Gamlin Restaurant Group
Selection, fresh flavors, the hottest spots for dining and drinking. These are what diners can expect at a Gamlin Restaurant Group restaurant. Founded by brothers Derek and Lucas Gamlin, the Gamlin Restaurant Group creates original bar and restaurant concepts that bring cutting-edge ideas to the St. Louis dining scene. What started with the largest vodka selection in the country, served alongside fresh sushi and gourmet burgers at Sub Zero Vodka Bar, 308 N. Euclid Ave., St. Louis, MO 63108, has grown into Gamlin Restaurant Group, which also includes Gamlin Whiskey House, at 236 N. Euclid, St. Louis, MO 63108. A Southern twist on a traditional steakhouse, Gamlin Whiskey House offers more than 250 whiskeys and fine wines. Both restaurants have received national accolades, including being named Best Vodka Bar and one of the Best Whiskey Bars in the country by USA Today.