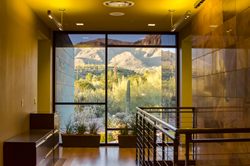 TUCSON, Ariz. (PRWEB) December 01, 2015
Nov. 30, 2015 – Sunquest Information Systems Inc. today announced plans to relocate their headquarters to 3300 Sunrise Blvd., an office known as the former Muscular Dystrophy Association (MDA) headquarters in North Tucson. Sunquest plans to leverage the move to enhance its innovation and client-focused culture, allow for growth and attract top talent.
The 3300 Sunrise office building, considered by many in the community to be an architectural treasure, was selected by Sunquest for its dynamic design, open floor plan, natural light and views of Tucson's mountain landscape through large floor-to-ceiling windows. The building's aesthetics and floor plan will naturally foster employee collaboration and innovation, as well as become an inviting location to host client training or planning meetings.
"Our employees are our greatest assets and are united in Sunquest's mission to make healthcare smarter and patients safer. Selecting 3300 Sunrise Blvd. as our headquarters is really an investment in our employees, our performance-oriented culture and in Tucson as the place that Sunquest will call home for years to come," said Matthew Hawkins, president of Sunquest. "We will create a setting where our employees, clients and members of the Tucson community will find inspiration to innovate and collaborate to achieve our mission."
Sunrise Campbell Investors, a Larsen Baker LLC-sponsored partnership, acquired the mostly vacant office building in April 2014 from the MDA in one of the largest lease transactions of the past few years.
Don Baker, principal at Larsen Baker, said, "Buying this 83,000 sq. ft. vacant building was a bit of a risk, but we believe in Tucson. We think Tucson can compete for world-class high tech companies, and this building is the finest Class A office building ever built in Tucson. We knew we would find a great tenant for this architectural gem."
Sunquest selected Seaver Franks Architects A.I.A. as the project design consultant; a firm known for their unique designs in the Tucson area. The company anticipates a move-in date of fall 2016.
###
About Sunquest Information Systems
Sunquest Information Systems Inc. provides diagnostic and laboratory information systems to more than 1,700 laboratories. For the past 30 years, Sunquest has delivered solutions that optimize financial results, enhance efficiency and improve the quality of patient care. The company's pathology-focused mission, outreach awareness and point of care solutions establish Sunquest as a leader in the healthcare technology industry. Headquartered in Tucson, AZ, Sunquest also has offices in the United Kingdom and India.
About Larsen Baker LLC
Larsen Baker, LLC is a Tucson based real estate brokerage, investment and development company that owns and manages a portfolio of over 2,400,000 sq. ft. of commercial properties in Southern Arizona.