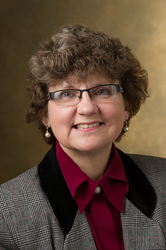 I look forward to contributing to the deliberations of the Oncology Council to ensure that the standards for specialty recognition are appropriate
Edwardsville, Ill. (PRWEB) December 01, 2015
Southern Illinois University Edwardsville's Terri Poirier, PharmD, has been appointed to the Oncology Specialty Council for 2016-2018 by the Board of Pharmacy Specialties (BPS).
A professor of pharmacy and Senior Scholar in the SIUE School of Pharmacy, Poirier accepted the national appointment's three-year term. Oncology pharmacy specialists recommend, design, implement, monitor and modify pharmacotherapeutic plans to optimize outcomes in patients with malignant diseases.
"I am honored to be selected to this national board," said Poirier. "I look forward to contributing to the deliberations of the Oncology Council to ensure that the standards for specialty recognition are appropriate."
The Board of Pharmacy Specialties consists of eight specialty councils including oncology, critical care, pediatric, ambulatory care, nuclear, nutrition support, pharmacotherapy and psychiatric pharmacy. Each council consists of nine members, including three members who are non-specialists, to the council. Poirier was appointed as a non-specialist. Each council is responsible for exam construction and role delineation for the specific focused area.
"It is truly an honor for the SIUE School of Pharmacy to have Dr. Terri Poirier appointed to the Board of Pharmaceutical Specialties Oncology Special Council," said Dr. Gireesh Gupchup, SOP dean. "It is gratifying that the Board has recognized Dr. Poirier's longstanding expertise in pharmacy education."
A BPS Specialty Council serves the following purposes:

To recommend to the Board of Pharmacy Specialties standards and other requirements for certification and recertification of pharmacists in the specialty
To develop and administer examinations as required for certification and recertification of pharmacists in the specialty
To evaluate the qualifications of individual pharmacists and to submit to the Board of Pharmacy Specialties the names of those pharmacists recommended for certification or recertification in the specialty
"The Board of Pharmacy Specialties is thrilled to have nationally recognized subject matter experts and pharmacy leaders serve a pivotal role in the board certification process," said BPS Executive Director William Ellis. "The professionalism, knowledge and expertise of the council members enable each specialty to maintain a high standard of quality in their work towards recognizing BPS board certified pharmacists at the leading edge of patient care."
The overriding concern of BPS is to ensure that the public receives the level of pharmacy services that will improve a patient's quality of life
School of Pharmacy: Today's pharmacists improve patients' lives through the medication and education they provide. Dedicated to developing a community of caring pharmacists, the SIUE School of Pharmacy curriculum is nationally recognized as a model that offers students a unique combination of classroom education, research, community service and patient care. The School of Pharmacy's areas of excellence include a drug design and discovery core; pediatric practice; chronic pain research and practice; and diabetes research and practice. As the only downstate Illinois pharmacy doctorate program, the SIUE School of Pharmacy is addressing the growing need for highly trained pharmacists in a rapidly growing field.