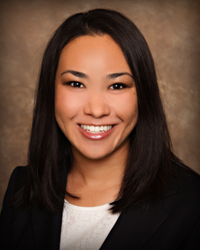 She is a tireless worker, has impeccable credentials and is exactly the kind of attorney that we can trust with the lives of our clients
Southlake, Texas (PRWEB) December 01, 2015
Beal Law Firm has named former Baylor Bear Ana Bachmann as a Senior Associate Attorney, making her the youngest to hold that position in the 23 year history of the firm. Receiving the promotion just before her 27th birthday, Bachmann steps into a position with an extremely high level of responsibility, however, according to the firm's Founder and Senior Attorney Eric Beal, she's more than ready.
"Ana is exactly the kind of attorney that we can trust with the lives of our clients and their children," says Beal. "She is a tireless worker, has impeccable credentials, and has gained an enormous amount of experience in the two and a half years that she's been with us. Moreover, she is an Honors graduate of Baylor School of Law, which is known to produce trial-ready attorneys through their well-respected and nationally recognized Practice Court program."
While attending Baylor, Bachmann was a member of the Dean's List, an Associate Editor of the Baylor Law Review, and President of the Asian Law Students Association. Prior to Law School, Bachmann received both her Bachelor's and Master's degrees from the University of Texas at Dallas. The Bachelor's degree was obtained with Collegium V Honors and Major Honors, while the Master's Degree was received with High Distinction Honors.
Since coming to BLF, Bachmann has co-authored a continuing legal education paper entitled, "Understanding Conservatorship, Child-Possession, and Access Issues in the State of Texas" and become a member of the College of the State Bar of Texas. The Bar College is an "honorary society of lawyers who are among the best trained attorneys in Texas." In order to qualify for membership, the attorney must have attended "at least double the Continuing Legal Education (CLE) required by the State Bar of Texas."
As a Senior Associate Attorney, Bachmann will be responsible for cases under her watch from the outset of the case until completion of all post-trial matters. She will not be alone, however. As noted by Beal, "Through the team approach utilized at the firm, Ana will have junior attorneys assisting her and be supervised by our two Board Certified attorneys, Senior Managing Attorney Constance Mims and myself."
Beal Law Firm, PLLC practices exclusively family law, including all aspects of divorce, custody, and support cases. The firm has nine attorneys -- two who are Board Certified in Family Law by the Texas Board of Legal Specialization -- and three offices. The firm can be reached at http://www.dfwdivorce.com.