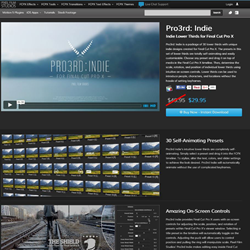 Pro3rd Indie will automatically animate without the use of complicated key-frames.
Aliso Viejo, CA (PRWEB) January 28, 2016
Pro3rd: Indie is a package of 30 lower thirds with unique indie designs created for Final Cut Pro X. The presets in this set of lower thirds are totally self-animating and easily customizable. Choose any preset and drag it on top of media in the Final Cut Pro X timeline. Then, determine the scale, rotation and position of individual lower thirds using intuitive on-screen controls. Lower thirds can be used to introduce people, characters and locations without the hassle of setting key-frames.
Pro3rd Indie's intuitive lower thirds are completely self-animating. Simply select a preset and drag it into the FCPX timeline. To stylize, alter the text, colors and slider settings to achieve the look desired. Pro3rd Indie will automatically animate without the use of complicated key-frames.
Pro3rd Indie provides Final Cut Pro X users with on-screen controls for adjusting the scale, position and rotation of presets within Final Cut Pro X's viewer window. Selecting a title preset in the timeline will automatically toggle on the controls. Adjusting the puck will allow users to control position and pulling the ring will manipulate scale. Pixel Film Studios' Pro3rd Indie makes editing easy inside Final Cut Pro X.
Pro3rd: Indie features a myriad of stylized elements and smooth animations to create beautiful title presets. Easily change the color of Pro3rd elements using color swabs and alter the lengths and widths of attributes by manipulating intuitive slider controls. Pro3rd: Indie is the perfect tool for any Final Cut Pro X production.
Pro3rd: Indie is made exclusively for use within Final Cut Pro X. Access customizable parameters within the top-right inspector window in the FCPX interface. Alter colors, lengths, widths, and scales with simplistic sliders, swabs, and pop-up menus. Pixel Film Studios makes amazing easy with Pro3rd: Indie presets.
Established in 2006, Aliso Viejo, California-based Pixel Film Studios is an innovative developer of visual effects tools for the post-production and broadcast community. Their products are integrated with popular non-linear editing and compositing products from Apple FCPX. Apple, the Apple logo, Mac OS X, and Macintosh are registered trademarks of Apple Inc. in the U.S. and/or other countries. All other trademarks and trade names are the property of their respective owners.