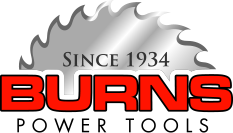 He taught my grandfather the trade and created the SuperSharp™ premium blade service that continues to lead the industry today.
Fall River, MA (PRWEB) December 03, 2015
Burns Power Tools (http://www.burnstools.com), a leading provider of power tools, machinery and saw sharpening services since 1934, is announcing the launch of a new website and marketing strategy that will thrust the 80 year old company into the Digital Age. The announcement coincides with an expansion of their service territory to include the entire U.S. This move is predicated by the company's philosophy that every new generation of management should strive to evolve the family-owned and operated company and grow the Burns brand.
For Eight Generations, Burns Power Tools has focused on customer dedication and loyalty. "My great-grandfather, J.J. Burns founded this company on his expertise in blade sharpening" said Zach Burns, President of Burns Tools. "He taught my grandfather the trade and created the SuperSharp™ premium blade service that continues to lead the industry today. With the addition of a robust retail machinery division, we knew it was time to magnify our presence and bring Burns' services to a larger market."
Burns Power Tools enlisted the help of 190west (http://www.190west.com), a digital marketing firm based in Westford, MA, to develop a new online brand for the 80 year old company. The Burns partnership with 190west includes a completely redesigned website, a digital marketing and advertising plan, and a new social media strategy that will connect Burns with both their current market and a new generation of consumers.
"This new journey represents more than just a redesigned look for our company - we're embarking on technology movement that will shape Burns' customer base and the way we conduct our business. In addition to our products and services, our social presence and viral media plan will help us become an industry resource, and deliver the tried and true expertise we are known for in the areas of heavy machinery and blade sharpening to a broader market," adds Burns.
Burns Power Tools is also an Authorized Dealer of Festools, DeWalt & Makita, and they conduct independent research and testing to offer a complete line of tools and supplies from 50+ manufacturers that are considered the most efficient for their primary customer base. Their "Total Package" approach includes selling, accessorizing repairing and sharpening – with pickup, drop off and setup services available to consumers. Burns' exclusive SuperSharp™ blade service, recognized throughout the industry, employs a five point quality inspection to increase the life of the product and ensure a more cost-effective solution for customers.
For more information around the collaboration between Burns Power Tools and 190west, please call (866) 538-8196.
About Burns Power Tools
For over 80 years, Burns Power Tools has been a family owned and operated supplier of heavy machinery, world class power tools and elite blade sharpening services. Established by John J. Burns in 1934 in Fall River, MA, Burns has become a major supplier specializing in industrial power tools, heavy-duty machinery, full service sharpening, repairs and related accessories. Burns' patented SuperSharp™ technology leads the industry and offers a cost-effective solution that extends the life of the product and results in stronger, sharper mechanical blades. Burns is also an authorized Dealer of Festools, DeWalt& Makita.
About 190west
190west, a division of Boston-based 190 Group LLC, is a boutique digital marketing agency located in Westford, MA. 190west provides personalized multi-channel marketing solutions and a full-suite approach to B2B and B2C marketing for clients throughout the U.S. Their complete digital marketing services include specialized inbound strategy, design, content, optimization and advertising; as well as retention and remarketing tactics. The agency offers customizable programs that analyzes key performance indicators to produce results.