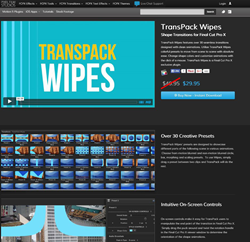 Change shape colors and customize animations with the click of a mouse all within Trans-Pack Wipes.
Aliso Viejo, CA (PRWEB) January 29, 2016
Trans-Pack Wipes features over 30 seamless transitions designed with clean animations. Utilize Trans-Pack Wipes colorful presets to move from scene to scene with absolute ease. Change shape colors and customize animations with the click of a mouse. Trans-Pack Wipes is a Final Cut Pro X exclusive plugin.
Trans-Pack Wipes presets are designed to showcase different parts of the following scene in various animations. Choose from motion blurred and non-motion blurred circle, bar, morphing and scaling presets. To use Wipes, simply drag a preset between two clips and Trans-Pack will do the rest.
On-screen controls make it easy for Trans-Pack users to manipulate the end point of the transition in Final Cut Pro X. Simply drag the puck around and twist the rotation handle in the Final Cut Pro X viewer window to determine the orientation of the shape animations.
Utilize the on screen controls to adjust the looks with Trans-Pack presets. Certain presets allow FCPX users the control of rotation animations, mask positioning and even scaling.
Trans-Pack Shape features both motion blur and non-motion blurred presets. Utilize motion blurred presets for a more organic/blended look and feel. Use non-motion blurred presets for a sharper style. Pixel Film Studios makes amazing easy in Final Cut Pro X.
Established in 2006, Aliso Viejo, California-based Pixel Film Studios is an innovative developer of visual effects tools for the post-production and broadcast community. Their products are integrated with popular non-linear editing and compositing products from Apple FCPX. Apple, the Apple logo, Mac OS X, and Macintosh are registered trademarks of Apple Inc. in the U.S. and/or other countries. All other trademarks and trade names are the property of their respective owners.