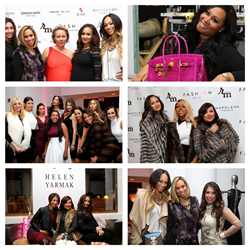 New York, NY (PRWEB) December 02, 2015
It was J.K. Rowling who so eloquently stated, "We are only as strong as we are united, as weak as we are divided." The Rosemark Group CEO, Jaclyn Rosenberg, clearly understands this concept, realizing that there is not only power in unity, but also in numbers. The owner of the posh, boutique Real Estate firm is teaming up with her partner, Keisha Sullivan, fiance' of Superbowl champion Jameel Mcclain, for the second time- to host the 3rd Annual Wives' Soiree. The exclusive event is set to take place on Wednesday, December 9, 2015, at the newly opened Totokaelo (totokaelo.com) in NYC, from 7:00pm -11:00 pm. The swanky soiree will once again unite the illustrious women behind the NBA, NFL & MLB leagues, for a worthy cause. This year's gala will accommodate more than 80 guests and will also serve as a unique platform to weld the exclusive circle, helping to enhance their distinct bond for a lifetime.
In Conjunction with the Polo Grounds Community Center, The Rosemark Group will select a group of deserving women, prior to the soiree, to receive some special assistance. Each woman chosen will get professional attire to help them successfully enter into a new career, or to make the transition back into the work force. The Harlem area recipients will each receive two complete outfits, suitable for a work environment; including dresses, blouses, suits, jewelry, shoes, outerwear and handbags. The Rosemark Group and the fabulous women behind the league understand that if you look good, you feel great. Collectively, it is their goal to help uplift and empower women, to put their best foot forward, as they take the next step towards reaching their destiny.
Jaclyn Rosenberg and The Rosemark Group
The Rosemark Group is a boutique real estate firm specializing in athlete relocation. The founder and CEO, Jaclyn Rosenberg, has been actively serving the Harlem community for over a decade and is passionate about making a difference.
"With more than 30 years of experience, and firsthand knowledge of the life of a professional athlete, The Rosemark Group has a clear understanding of the needs of those in a demanding environment, as well as the other more personalized needs of their client base." For more information visit http://therosemarkgroup.com/
Totokaelo
"Totokaelo is a purveyor of beautifully designed and thoughtfully curated fashion and objects.
They represent artists and designers who they believe to have an independent and thoughtful sense of beauty. They believe the art and objects a person chooses for their life is a reflection of values and perspective.They hope to provide a unique point of view that attracts those of similar mind." For more information visit http://www.totkaelo.com
Polo Grounds Community Center
"The Polo Grounds Community Center is a multi-functional building that features office space and common areas, including a gymnasium, a performance stage, club room, locker room, game room, video room with a sound booth, arts and crafts room with a kiln, and a commercial kitchen – all to be used for a variety of community programs." http://www.nyc.gov
The host partners look forward to not only spending time with the remarkable wives' of America's favorite teams, but also for the opportunity to help the women of Harlem make a smooth transition into a new career, or back into the workforce. The RoseMark Group and Polo Grounds are on a mission to help women succeed, by reaching back to open the door- empowering one incredible female at a time.
WHAT: 3rd Annual Wives' Holiday Soiree
WHEN: Wednesday, December 9, 2015 @ 7:00pm- 11:00pm
WHERE: Totokaelo- located at 54 Crosby Street, New York, NY 10013
This is a private anniversary bash, with the following prestigious companies as Spirit Sponsors; San Huberto and Grand Mayan Tequila, and Swag Bag Donors- SCENE candles, Anastasia Cosmetics, Nailhur, Lipland and Charlotte Tilbury and many more. For more information, contact jaclyn(at)rosemarkgroup(dot)com, or call 212-376-4230.