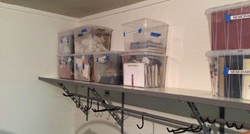 "An organized garage improves quality of life by delivering ease of access and peace of mind that belongings are stored away from the elements, out of reach of children, and in a clean environment." -- Amy Smith, Monkey Bars Houston
Houston, Texas (PRWEB) December 01, 2015
Houston resident Annette Edmonds, the winner of the Messiest Garage Contest, has received a complete garage overhaul, including a one-of-a-kind garage storage solution furnished and installed by Monkey Bars Houston, a local company that specializes in custom garage shelving, cabinets and other storage solutions.
The contest, sponsored by the Houston chapter of the National Association of Professional Organizers, or NAPO, encourages area residents who are overwhelmed by garage clutter to send in photographs of their worst garage messes. The winner of the Messiest Garage Contest receives a comprehensive overhaul of his or her garage. Participating businesses include Monkey Bars Houston, Goodwill, TrashNDash and Southern Shred. The entire prize package is worth approximately $3,000.
On October 24, 2015, employees of Monkey Bars Houston arrived at Annette Edmond's Houston-area home to begin the transformation, along with the NAPO team, several professional organizers and representatives from other area businesses. After a brief team meeting to coordinate and plan a strategy for the makeover, led by the members of the Houston NAPO chapter, the contents of the garage were removed, sorted and organized.
Meanwhile, Monkey Bars Houston got to work installing Monkey Bars garage storage solution. The system includes adjustable wall-mounted shelves capable of holding over 1,000 pounds per 4-foot section, supported by special braces that accept custom Monkey Bars horizontal hanging bars and specially-designed Monkey Bars hooks to hang nearly anything from hand tools to wheel barrows or bicycles.
The easily-accessible lower shelves provide storage for frequently accessed items, which can be stored directly on the shelves or in bins, totes or other containers for safe keeping. Upper shelves provide plenty of space for the long-term storage of items that are needed less frequently, while the Monkey Bars crossbar and hook system provides convenient access to the most frequently used items, such as tools, bicycles and other equipment.
With careful planning by the Monkey Bars team, along with the work of the other NAPO members and volunteers, Annette's garage was reorganized and transformed into a useful, functional area that not only provides plenty of storage space, but one that can also comfortably house a vehicle.
"An organized garage improves quality of life by delivering ease of access and peace of mind that belongings are stored away from the elements, out of reach of children, and in a clean environment," said Amy Smith of Monkey Bars Houston. "We are thrilled to be part of NAPO Houston's Messiest Garage Contest and had fun surprising Ms. Edmond's with a makeover. We hope she'll enjoy her newly organized garage for years to come."
Monkey Bars Houston is a local supplier and installer of custom garage storage solutions, including wall-mounted shelving featuring the revolutionary Monkey Bars bar-and-hook storage system, a full line of custom cabinets with optional Monkey Bars hook systems, custom overhead shelving and storage systems, and several unique garage flooring solutions.
Monkey Bars Houston
5773 Woodway Dr #191
Missouri City, TX 77459
844-232-3420
gstoragemocity@gmail.com