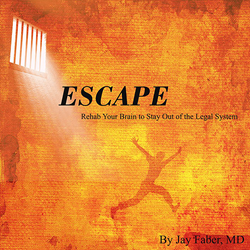 "This book is a gem," said Dr. Daniel Amen, one of the world's leading neuropsychiatrists and founder of the Amen Clinics. "It can help improve our legal system and save families and lives."
Costa Mesa, California (PRWEB) December 09, 2015
Dr. Jay Faber, an accomplished and highly regarded psychiatrist who has worked with thousands of adults, adolescents, and children over the past 30 years, has released his first book entitled "ESCAPE - Rehab Your Brain to Stay Out of the Legal System." The book offers a compelling and insightful read for those individuals who regularly break the law and need to find proven methods of significantly changing their ways and thus getting their lives back on track. Dr. Faber believes the key to making a change of this magnitude is transforming an unhealthy brain into a healthy one.
Significant advances in neuroscience, led by Brain SPECT (Single Photon Emission Computer Tomography) Imaging, are showing that not all men and women who have been on the wrong end of the legal system are bad people. Instead, they have bad brains; and those bad brains are leading to bad decisions, bad behaviors, and ultimately, time behind bars.
"The purpose of the book is to harness what we has been learned so far in neuroscience, help rehabilitate these poorly functioning brains and create more whole, contributing citizens to society," said Dr. Faber "Rather than living in a sequestered 6' x 8' jail cell or hibernating in a dilapidated parolee group home, a unique opportunity exists to dramatically transform and enhance lives."
Those who will benefit from the book include the individual who wants information to avoid further legal consequences and set an example for his or her family. A recently released prisoner who wants to figure out how to find work, develop constructive relationships and stay out of further trouble will also find the book helpful. Should the reader be a parole officer, a counselor or family member looking to give guidance, this book will serve as an invaluable resource for all of those audiences as well.
Dr. Faber hopes those who read and follow the recommendations of "ESCAPE" will successfully alter their ways and live the rest of their lives far from attorney offices, courtrooms, jails, and prisons.
"This book is a gem," said Dr. Daniel Amen, a leading neuropsychiatrist and founder of the Amen Clinics. "It can help improve our legal system and save families and lives."
Available only as an e-book, "ESCAPE" includes five chapters pertaining to scheduling, self esteem, sobriety, growing and mentoring. Dr. Faber concludes each chapter with a series of exercises he hopes each reader will engage in as he believes these are an essential aspect of self-examination and the overall rehabilitation process. "ESCAPE" documents the "real life" stories of several individuals who turned their lives around after being mired in the depths of the legal system.
The book is 251 pages, and it is now available at no cost exclusively at http://www.drjayfaber.com.
About the Author
Dr. Jay Faber is a double board certified Adult and Child-Adolescent Psychiatrist. For the past three years, he has worked on staff with the Amen Clinics in Atlanta and Costa Mesa, Calif. Dr. Faber is an active member of American Psychiatric Association, The American Academy of Child and Adolescent Psychiatry, and the American Academy of Anti-Aging Medicine.