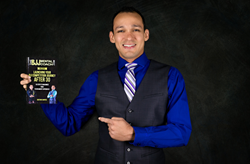 Gustavo's book is the A to Z guide to all beginner master competitors. Vitor "Shaolin" Ribeiro (3x IBJJF Black Belt World Champion)
(PRWEB) December 03, 2015
In the current competitive Brazilian jiu-jitsu scene, some of the first names that come to mind are Marcus "Buchecha" Almeida, Rodolfo Vieira, Cobrinha, and Rafael Mendes. While the top black belts in the adult division definitely deserve our praise and admiration, these athletes make up only a small fraction of BJJ competitors. One of the greatest benefits jiu-jitsu offers practitioners is the opportunity to train and compete for a lifetime. The International Brazilian Jiu-Jitsu Federation (IBJJF) offers divisions and even entire competitions exclusive to 30+ competitors. While the opportunities to compete are abundant for Masters level athletes, those new to competition often do not know where to start. This can be especially difficult for those with families, full time jobs, and a limited athletic background.
Gustavo Dantas, The BJJ Mental Coach®, introduced the jiu-jitsu community to Mental Skills Training (M.S.T) with his DVD series Inner Discovery for Outer Success. As a certified Mental & Life coach, Gustavo, who is a fourth degree black belt, has studied and blended concepts from personal development, mental skills training, and his own experience to help practitioners perform to the best of their abilities and reach their full potential both on and off the mat. In his latest work, Launching Your BJJ Competition Journey After 30, "10 Steps to Maximizing Your Tournament Experience," Gustavo has compiled a series of tips specifically for the Masters level practitioner looking to incorporate competition as part of his or her jiu-jitsu journey. The book details the process of choosing the appropriate division when signing up, planning your training schedule, and developing both a technical and mental competition strategy.
While the practical information provided will be a major benefit for those new to competition, the most enlightening aspect of the book pertains to identifying why the practitioners would want to compete and how competition can benefit them not only on the mat, but in their personal and professional endeavors as well. Competition will force them to identify and confront their thought patterns when faced with a stressful situation. No matter how old they are, it is very likely that they are constantly faced with stressful situations in their everyday life that call for them to perform at a high level. If they want to improve their performance in all areas of their lives while removing mental roadblocks that prevent them from being the best version of themselves both on and off the mat, "Launching Your BJJ Competition Journey After 30" can help guide them on your journey.
For more information on the author Gustavo Dantas, please visit http://www.thebjjmentalcoach.com. The book can be purchased on the website for $14.99 .