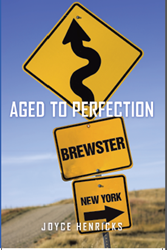 We need to find ways to empower the elderly and spark action to change the stereotype of their abilities
LANSING, Mich. (PRWEB) December 03, 2015
According to the World Health Organization's 2015 world report on aging and health, most people can now expect to live over the age of 60 for the first time in history. Although this offers the elderly expanded opportunity to play a contributing role in today's society, they are often still stereotyped as frail, out of touch, burdensome, and dependent.
In Joyce Henricks's new novel, "Aged To Perfection," she shares the story of Hannah, a widowed and elderly woman, who faces struggles associated with aging and fighting injustice with societal treatment of the elderly.
"Too many people are reluctant to interfere when they see an injustice but Hannah shows that even elderly and traditional grandmothers can make a difference," Henricks said.
Partly inspired by Henricks's personal experiences with family, "Aged To Perfection" aims to inspire others to highlight their strengths and continue to be contributing members of society – at any age.
"I have seen elderly family members and friends face the dilemma of entering a nursing home or trying to manage at home," Henricks said. "We need to find ways to empower the elderly and spark action to change the stereotype of their abilities."
For more information, visit http://www.iuniverse.com.
Aged To Perfection
By Joyce Henricks
ISBN: 978-1-4502-7196-7
Available in softcover, hardcover, e-book
Available on Amazon, Barnes & Noble and iUniverse
About the author
Joyce Henricks is a retired professor and an advocate for women and social justice issues. She is active in social and political groups by serving on the Board of Directors for her community's tri-county domestic violence shelter, county homeless shelter, and local diversity rights group. This is Henricks's first novel, and she is currently working on her second. She resides in Mt. Pleasant, Mich.
# # #
**FOR IMMEDIATE RELEASE**
For review copies or interview requests, contact:
India Heady
502.612.5630
iheady(at)bohlsengroup(dot)com