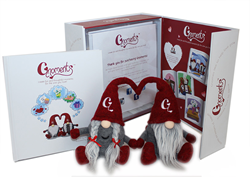 Using Gnoments in our relationship has added a spark and excitement as we take turns surprising each other.
Tempe, Arizona (PRWEB) December 02, 2015
Although they've only been on the scene since October 2015, Gnoments™ is already making waves as a fun new way to add romance to every day.
Now through February 15th, the NFC technology-enabled plush gnomes will be prominently on display in the heart of Times Square. They've secured prime billboard real estate on Broadway, where they'll be front and center for all the Thanksgiving and New Year's Eve excitement. The Gnoments' Gnomes will also make appearances in Time Square during select weekends for pedestrian photo opportunities.
Gnoments™ is an interactive relationship messaging tool that is designed to keep the magic in a relationship alive. Big moments in a relationship are always remembered, but it's the little things that truly count. With Gnoments™ it's easier than ever to keep the magic alive one small gesture at a time. In just a few seconds couples can say "I love you" on-the-go or share a secret moment and memory.
These techno-savvy gnomes are embedded with an NFC chip that can be pre-programmed by any NFC-enabled smart phone to send text messages, maps and locations, and links to sound recordings, videos, and more.
If there isn't an NFC-enabled device available, there are other ways to set the mood or say hello. Messages can be sent via email or text using their unique Gnomifications system on their mobile friendly website.
As a handy low-tech option, each gnome has been outfitted with a back pouch. Couples can hide handwritten notes or small objects within the pouch and place the gnome where it will be easily discovered.
Each beautifully packaged kit comes with a boy and girl gnome as well as a 32 page illustrated story book that's designed to help get the creative ideas flowing. In addition to the embedded NFC Chip and the surprise back pouch, each gnome has magnetic hands so they can hold each other.
About Gnoments™: Gnoments™ launched in October of 2015 with the mission of fostering fun, thoughtfulness, and love in relationships in light of today's busy lives. The gnomes in the Gnoments kit encourage and remind couples, young and old, to enjoy the moments and the storybook is full of ideas to help you get started. To see more images visit us on facebook Contact natalia(at)allettarepr(dot)com or visit gnoments.com for more information.