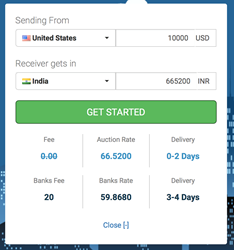 RemitRadar acts as an advocate for the interests of consumers.
London, United Kingdom (PRWEB) December 02, 2015
In an ever-diversifying world economy, the increasing demand for money transfer comes with a price: exorbitant fees and fx rates from money transfer service providers that extol an undue amount on the consumer's bottom line.
Luckily, there is a new service concerned primarily with the needs of immigrants and international business entities to retain as much of the original value of their money as possible when engaging in the remittance. RemitRadar serves as an emissary for international remittance flow as the major market player connecting money transfer systems and consumers in one real-time online platform.
Two Fresh Faces Join the Fight
Additionally, this team of innovators has just added two renown experts in global finance to its already stellar roster. Former MoneyGram international principles Iain Blackwood and Trevor Pettifar have joined the mission that is dedicated to ensuring that consumers retain as much of the value of their money as possible.
Announcing the RemiRadar money transfer aggregation service - a money transfer marketplace to connecting consumers with a network of the world's premier money transfer systems aiming to bring monetary added value to the consumers.
This world class team of finance leaders works with over 1100 corridors across the borders of over 80 countries.
How the RemitRadar System Works
RemitRadar acts as an advocate for the interests of consumers, service providers and migrant communities. The London-based company is committed to providing consumers with the lowest possible remittance fees by actively monitoring fx rates and fees posted by all major transferring services and pinpointing the service that will ultimately allow the consumer to enjoy the benefits of the lowest possible rate providing maximum transparency on pricing and full remittance information.
Driving Fees Down Through Auction Ideology
RemitRadar provides a free auction option to its customers, allowing service providers to bid against one another in order to secure the customer's business. The fundamental principle of competition helps drive down providers fees, resulting in the lowest fee for a money transfer customer that the market can possibly support.
Multiple Transfer Options
Once a transfer rate between a customer and a transfer service has been agreed upon, RemitRadar allows the consumer the convenience of either transferring their funds through the RemitRadar system straight away or the freedom to independently visit the service provider's site to complete the transfer at their convenience.
Transfer Rate Agreement Security
RemitRadar then acts as an ambassador between the consumer and the transfer service with the security of the customer in mind. They monitor the transaction to ensure that the conditions are upheld In accordance with the agreed transfer terms. Each case is managed on an individual basis, following each specific point within the agreed terms until final fulfilment.
A Persistent Commitment to Quality
Constant price monitoring through the lens of the auction business model allows customers to enjoy savings that are up to 35% cheaper than those of other services. An example of a consistent Remit Radar rate is that for every $10,000 USD exchanged, up to $1034 are saved. Within its first three months of business, RemitRadar established itself as a market leader by processing tens of millions in transactions.
About Iain Blackwood
Mr. Blackwood is a former company leader with Thomas Cook and CEO of MoneyGram International and is stepping into the role of Chairman of the RemitRadar Supervisory Board. His insight and expertise promise to boost RemitRadar's effort to challenge the status quo by increasing savings for the international remittance consumer.
About Trevor Pettifar
Mr. Pettifar is the former Head of Finance for MoneyGram International and CFO at Wood and Company and is stepping into a leadership role with the newly formed RemtRadar supervisory Board. He will use his 18 years of experience in investment banking, global payments and financial services to help lead the way to lower rates for customers of international money transfer services.
Contact:
https://remitradar.com
info(at)remitradar(dot)com
4-5 Bonhill St
Google Campus
London EC2A 4BX,
United Kingdom