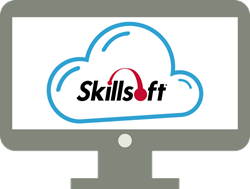 With this new interface, and leveraging Skillsoft's extensive library of video-rich courses, we're providing learners with easy access to crucial resources that we know are necessary for the knowledge to stick.
NASHUA, N.H. (PRWEB) December 01, 2015
Skillsoft, a global leader in learning and talent management, today announced its new content user experience, which will allow learners to quickly navigate bite-sized learning content and access supporting activities to drive knowledge retention and increase the value of organizational learning programs.
Recent research from Bersin by Deloitte suggests that workers only have one percent of their work week to dedicate to learning and development. In response to the increasing demand for quick, on-demand training opportunities, Skillsoft's new easy-to-use course interface places content at the center of learning. Trusted video content is not only at the centerpiece of the new experience, but users can also access other available resources such as job aids, assessments, practice exercises or help from subject matter experts to reinforce and apply the learning.
"In today's always-on, digital workforce, users increasingly expect instant access to short video content for moment-of-need support to more formal programs, such as certification," said Tim Hildreth, Vice President of Product Management at Skillsoft. "But video alone, without supporting resources for the reinforcement and the application of the skills learned, isn't enough. With this new interface, and leveraging Skillsoft's extensive library of video-rich courses, we're providing learners with easy access to crucial resources that we know are necessary for the knowledge to stick. The three to five minute action-oriented video topics are easily accessed and consumed when and where users need it most – on desktops, tablets or mobile devices."
In addition to its extensive library of expert-led courses in technical and digital skills topics, Skillsoft is now extending its new video format to cover business courses in a wide range of topics including personal and interpersonal communications, optimizing team performance, critical thinking, emotional intelligence, and much more. Skillsoft's additional videos, along with the new content experience, deliver a solution that helps organizations cultivate a highly competitive workforce, and drive innovation and growth.
These enhancements to Skillsoft's platform enable enterprises to deploy affordable, scalable solutions to deliver high-value learning programs. Seamless integration into other systems across an organization allows customers to produce actionable insights and information about their workforce to drive strategic decision-making and easily maintain compliance with regulatory requirements.
To learn more about Skillsoft's new course experience that delivers high-impact, micro-learning opportunities, visit http://ow.ly/VjJnn.
Tweet this: @Skillsoft's new course experience delivers high-impact, micro-sized learning for users to learn on-the-go. http://ow.ly/VjJnn
About Skillsoft
Skillsoft is a pioneer in the fields of learning and talent management with a long history of innovation. Skillsoft provides cloud-based learning solutions for its customers worldwide, ranging from global enterprises, government, and education to mid-sized and small businesses. Skillsoft's customer support teams draw on a wealth of in-house experience, flexible delivery platforms and a comprehensive learning e-library to develop off-the-shelf and custom learning programs tailored to cost-effectively meet customer needs. Skillsoft's courses, books and videos have been developed by industry leading learning experts to ensure that they maximize business skills, performance, and talent development.
Skillsoft currently serves over 6,700 customers and more than 45,000,000 learners around the world. Skillsoft is on the web at http://www.Skillsoft.com.
Skillsoft, the Skillsoft logo, Skillport, SkillChoice, Books24x7, and learning-centric Talent Expansion are a partial listing of the trademarks or registered trademarks of Skillsoft Ireland Limited in the United States and certain other countries. All other trademarks are the property of their respective owners.