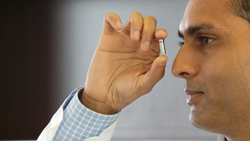 Jacksonville, Fla. (PRWEB) December 01, 2015
Baptist Medical Center Jacksonville has implanted the second highest number of leadless pacemakers in the U.S. and is the only hospital in the region providing what is known as the world's smallest pacemaker.
Results from the largest clinical data presentation of transcatheter pacing patients were revealed recently at a medical conference and published in The New England Journal of Medicine.
Baptist Jacksonville is one of 56 institutions in the world participating in this trial, called the Medtronic Micra® Transcatheter Pacing System (TPS) Global Clinical Trial. With 35 patients, Baptist Jacksonville also has the seventh highest number of patients worldwide and second highest nationally who have received the pacemaker out of the 56 institutions.
Baptist Heart Specialists at Baptist Jacksonville were also the first in Florida to implant the pacemaker.
"The new leadless pacemaker completely replaces a traditional single chamber pacemaker in a simple, but revolutionary way," said Scott Lee, MD, cardiac electrophysiologist with Baptist Heart Specialists and director of electrophysiology for Baptist Health. "Implantation of the device during the course of the study proved to be straightforward with minimal complications, easier recuperation and virtually no infections."
Comparable to the size of a large vitamin, the miniaturized transcatheter pacemaker was successfully implanted in nearly all patients in the worldwide trial – 99.2 percent (719 of 725) – and met its safety and effectiveness endpoints with wide margins. In fact, 96 percent of patients experienced no major complications, which is significantly fewer than seen in patients with conventional pacing systems.
At less than one-tenth the size of traditional pacemakers, the Micra TPS provides the most advanced pacing technology available, according to Medtronic. The miniature device, which weighs less than a small coin and delivers electrical impulses that help the heart beat normally, does not require the use of wires, known as leads, to connect to the heart. The pacemaker is cosmetically invisible and small enough to be delivered with minimally invasive techniques through a catheter inserted in the femoral vein in the groin area, and implanted directly into the heart.
"Patients can return to full activity within a few days, including intense athletic activity such as swimming and weight lifting," said Venkata Sagi, MD, cardiac electrophysiologist with Baptist Heart Specialists. "This pacemaker minimizes the risk of infection and eliminates lead failures over time as can be seen with the traditional pacemaker."
In contrast to the traditional pacemaker implant procedures, the Micra TPS implant does not require a surgical incision in the chest and the creation of a "pocket" under the skin. This eliminates a potential source of complications, and any visible sign of the device.
Baptist Jacksonville remains one of only two institutions in Florida and the only one in the northeast region currently implanting the device pending full FDA approval which is expected next year.
For more information on the pacemaker, contact Baptist Heart Specialists at 904.202.5488.
###
About Baptist Health
Baptist Health is a faith-based, mission-driven system in Northeast Florida comprised of Baptist Medical Center Jacksonville; Baptist Medical Center Beaches; Baptist Medical Center Nassau; Baptist Medical Center South; Baptist Clay Medical Campus and Wolfson Children's Hospital – the region's only children's hospital. All Baptist Health hospitals, along with Baptist Home Health Care, have achieved Magnet™ status for excellence in patient care. Baptist Health is part of Coastal Community Health, a regional affiliation between Baptist Health, Flagler Hospital and Southeast Georgia Health System forming a highly integrated hospital network focused on significant initiatives designed to enhance the quality and value of care provided to our contiguous communities. Baptist Health has the area's only dedicated heart hospital; orthopedic institute; women's services; neurological institute, including comprehensive neurosurgical services, a comprehensive stroke center and two primary stroke centers; a Bariatric Center of Excellence; a full range of psychology and psychiatry services; urgent care services; and primary and specialty care physicians' offices throughout Northeast Florida. The Baptist MD Anderson Cancer Center is a regional destination for multidisciplinary cancer care which is clinically integrated with the MD Anderson Cancer Center, the internationally renowned cancer treatment and research institution in Houston. For more details, visit baptistjax.com.