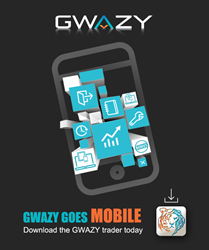 Limassol, Cyprus (PRWEB) December 02, 2015
GWAZY Ltd. has released the GWAZY Trader – the mobile app of the innovative GWAZY trading platform and method.
The GWAZY Trader app is available for demo and live trading on Android 4.4 Kitkat phones and above. The app is fully synchronized with the GWAZY platform which means account holders can now login into their GWAZY accounts and trade directly from their mobile.
The GWAZY Trader can be mastered in less than 10 minutes and is ideal for everyone as it offers an easy way of trading Forex (FX) currency pairs, Gold, Crude Oil and the Dow Jones.
On the GWAZY Trader, trading can be done in just four clicks by selecting the following:
a. Symbol (instrument)
b. Return percentage (25%, 50%, 100% or 200%)
c. Investment amount (from $10 up to $250)
d. Up or down market direction.
Martin G, Head of Development at GWAZY Ltd said "We looked into the latest trends of mobile trading and decided to develop an app that would allow traders to access their account and trade at anytime, anywhere, with full control and flexibility".
The GWAZY Trader incorporates various trading principles into one fast trading method, making mobile trading a fun experience whilst giving GWAZY traders the chance to achieve returns up to 200 per cent.
Download the GWAZY Trader app here.
Those who are would like to learn how to use the GWAZY app, can have a quick look at the GWAZY Trader video available on the Google Playstore.
About GWAZY Ltd.
GWAZY Limited (Ltd) is the technology provider, developer of the GWAZY Trading Platform, the GWAZY Trading Method, the GWAZY Trader and the GWAZY League.
###