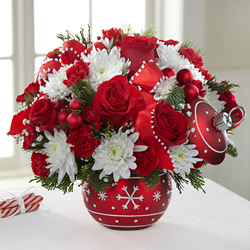 Haymarket, VA (PRWEB) December 03, 2015
Some of the most beautiful, natural, fragrant gifts of nature are fresh flowers, which look gorgeous, smell lovely and inspire positive emotions. BloomsToday.com has launched its holiday collection for the time of year when colorful, fresh bouquets and centerpieces trump all the sparkles and glitz of the season.
One of the country's leading providers of fresh, farm-grown flowers, plants and thoughtful gifts, BloomsToday.com creates stunning bouquets and seasonal arrangements in traditional shades fresh greens and brilliant reds, arranged with highlights of silver and gold to celebrate the Christmas and winter holiday season. There's not much that says "I care" and "I love you" from afar than fresh flower delivered to someone's front door.
Holiday flowers brighten faces and spaces of everyone, and remember not only your loved ones this season, but also your colleagues and friends whose offices and homes can be brightened with a fresh bouquet from BloomsToday.com. Besides delighting our senses of sight and smell, flowers and beautiful arrangements transform ordinary spaces into extraordinary spaces with color and aroma and nature's very best offering. Creatively pairing your flower choice with tasty chocolates and tasty treats raises the bar on your own thoughtfulness. The staff at BloomsToday.com is expertly trained in assisting you select just the right fresh flower bouquet and gift for the recipient.
Holiday centerpieces feature stately, taper candles solo or multiple, some encased in hurricane glass, and are the perfect Hanukkah or Christmas accent in a foyer, office, kitchen or center stage on the main dining table. The best, the freshest, the greenest, the most beautiful can always be found at BloomsToday.com ~ where they care that your experience is that of warm service, top-notch selection and, always, the most gorgeous blossoms and blooms. BloomsToday.com has more than twenty years of experience and can be trusted with your love via our flowers. Make someone's day -- in a flower-y kind of way! Send natural beauty to their door and warm their hearts with your love through flowers. New arrangements are always being created by the expert staff at BloomsToday.com, and there is something perfect for yourself, your friend or loved one over the holidays.
All orders are backed by a 100% guarantee. If those who receive Blooms Today's™ arrangements are not fully satisfied, Blooms Today will provide either an appropriate replacement or a full refund. Visit http://www.bloomstoday.com for more information.
For the latest updates and news, "Like" Blooms Today's™ Facebook fan page, http://www.facebook.com/yourbloomstoday, or follow us on Twitter,http://twitter.com/BloomsToday.
About Blooms Today
Blooms Today™ has taken the local flower shop feel and deep understanding of customer needs to a nationwide floral delivery service provider level. With a deep commitment to exceeding customers' expectation for quality, value and extraordinary service, Blooms Today has served millions of customers nationwide for more than 15 years. From a small local floral business with roots that stem back to the early 1920s, co-founders George Dukas and Don Mayer in 2000 have built a family business that is known as Blooms Today.
Blooms Today™ offers a wide variety of Elegant Flowers, Plants and Holiday Centerpieces and is your one-stop shop for all your floral needs. Orders are delivered by our local preferred florists through partnerships with the top three floral networks, FTD, a relationship in place since the 1930's, 1-800-Flowers, and Teleflora or handpicked from select farms in South America, Holland and from California. Blooms Today™ continues with a promise to provide excellent customer service and superior quality to every customer. Blooms Today™ prides itself in the ability to provide expedited service to customers and offers a 100% money back guarantee on all products.
Through its online store and website, Blooms Today™ offers an affordable "best-of-class" experience to bring joy to the lives of loved ones. Creating Smiles Across America!