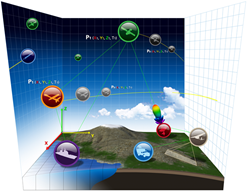 "STK 11 is an exciting mix of market-driven enhancements combined with the passion and expertise of some of our world-class innovators,"
Exton, PA (PRWEB) December 03, 2015
Systems Tool Kit version 11 is now available from Analytical Graphics, Inc. (AGI) with hundreds of improvements. Most notable with this release, STK and its related modules now include:

Streaming worldwide terrain hosted by AGI
64-bit Windows® desktop support
Volumetric analysis for isosurface analysis and visualization over time
3rd generation of Aviator for improved aircraft mission modeling
Phased array antenna modeling
Customer-driven enhancements to the Electro-Optical Infrared Red (EOIR) capabilities
"STK 11 is an exciting mix of market-driven enhancements combined with the passion and expertise of some of our world-class innovators," says Francesco Linsalata, AGI chief operating officer. "It shows that we are dedicated to support our expanding user base with continuous upgrades to STK."
Learn about the details of the STK 11 product line and download the latest software today at http://www.agi.com/goesto11.