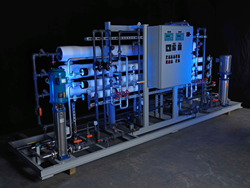 'The addition of the Hydranautics membrane product line diversifies our company portfolio of products and leverages our expertise and positive reputation in the pure water and industrial wastewater markets'
E. Bridgewater, MA (PRWEB) December 02, 2015
Process and Water, a leading manufacturer, designer and distributor of advanced water purification, filtration and chemical treatment technologies, today announced that it has teamed up with Hydranautics Membranes (A Nitto Group Company) to become the Mid-Atlantic and Northeast master distributor for its spiral wound and HYDRAcap membranes products.
Hydranautics located in Oceanside California, since 1963 has provided the highest standards in Reverse Osmosis (Brackish, seawater), Nanofiltration and ultrafiltration products. This includes its innovative LD technology elements that contain a neutrally charged membrane surface that helps prevent surface fouling by positively charged contaminants like TOC's commonly found in process and municipal water sources.
"We needed a partner that had the capabilities to inventory our products while having the technical expertise to support our existing and future client base. The Process and Water team was able to meet those needs," said Peter Merkel, Great Lakes/Midwest Regional Senior Manager "Technical filtration knowledge, flexibility and reliability in membrane separation – that's what Process and Water will deliver for us and our customers."
"The addition of the Hydranautics membrane product line diversifies our company portfolio of products and leverages our expertise and positive reputation in the pure water and industrial wastewater markets," said Tom Belmont CEO of Process and Water. "We are very excited to team up with a great company such as Hydranautics to help one another grow our respected businesses."
About Process and Water
Process and Water is a different kind of water purification and fluid-handling system company. It offers the high-end and custom solutions and products customers expect from large companies, but with the personalized support and services that only smaller companies can deliver. Providing innovative system design, development and manufacturing, Process and Water specializes in creating systems that not only meet customers' specific operational needs, but also their budget requirements. The company's expert staff partners closely with customers in all phases of their projects, and offers preventative maintenance and technical support services that ensure uninterrupted operations.
Large company capacities delivered with small company care – that's the Process and Water difference. Founded in 2010, and headquartered in East Bridgewater, Mass., Process and Water is a subsidiary of Elevate Experts Corp.