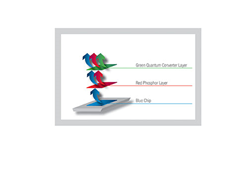 Osram's new Quantum Colors conversion technology will set new standards in LED backlighting for TV displays.
Sunnyvale, CA (PRWEB) December 01, 2015
For years, leading manufacturers of televisions have been demanding an ever broader color space. The new Quantum Colors conversion technology from Osram Opto Semiconductors will set new standards in LED backlighting for TV displays as it offers much better coverage of the color space, significant cost savings compared with conventional quantum dot sheets, and zero cadmium content. The TV standard is once again moving to a larger color triangle with Ultra HD. Quantum Colors was developed for precisely this standard. Initial customer projects are in progress, and this technology is scheduled for backlighting LEDs for the mass market by the end of 2016.
Quantum Colors is based on a green quantum converter that is combined with red phosphor on a blue chip. The technology was developed in part in the SSL4EU and Hi-Q-LED projects funded by the EU and the German Ministry of Education and Research (BMBF) and does not require any cadmium. This results in numerous advantages over the quantum dot sheets that have been used up to now for high-quality color rendering in TV backlighting. Osram's Quantum Colors technology offers superior coverage of the color space because of a narrow green peak with full width at half of the maximum (FWHM) of only 30 nm. This technology means that color space standards such as DCI can be covered 100 percent and REC2020 more than 80 percent. What's more, the Osram technology does not require the system or any other components to be adapted, which simplifies the production processes and the entire system design.
Customers benefit from significant cost savings
Compared with quantum dot sheet solutions, which are based on semiconductor particles measuring only a few nanometers, costs can be halved. Dave Rousseau, Product Marketing Manager at OSRAM Opto Semiconductors, provides an example: "A 55-inch TV with Ultra HD 100 percent DCI coverage based on OSRAM Quantum Colors technology can be provided for about $58, including all the costs of the light sources. The cost of just the quantum dot sheets in existing solutions is twice as high." (Source of quantum dot sheet costs: "The Price of QD Material is Falling, But Not Enough," DisplaySearch – February 6, 2015.)
Quantum Colors LEDs offer excellent color consistency throughout their lifetime
Another advantage is the constant color throughout the life of the LED. Quantum dot sheets take on a bluish tinge over time. As far as lifetime is concerned, Quantum Colors LEDs should last at least 30,000 hours; initial tests have produced positive results.
http://www.osram-os.com/pr-quantum-colors
Press Contact:
Kate Cleveland
Tel. 248-277-8018
Fax 248-596-0395
Email: kate.cleveland(at)osram-os.com
Technical Information:
Tel. 866-993-5211
Email: support(at)osram-os.com
Sales contact: http://www.osram-os.com/sales-contacts
ABOUT OSRAM
OSRAM, based in Munich, is a globally leading lighting manufacturer with a history dating back more than 100 years. The portfolio ranges from high-tech applications based on semiconductor technology, such as infrared or laser lighting, to smart and connected lighting solutions in buildings and cities. OSRAM had around 33,000 employees worldwide at the end of fiscal 2015 (September 30) and generated revenue of almost €5.6 billion in that fiscal year. The company is listed on the stock exchanges in Frankfurt and Munich (ISIN: DE000LED4000; WKN: LED 400; trading symbol: OSR). Additional information can be found at http://www.osram.com.