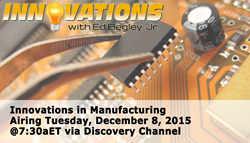 Jupiter, FL (PRWEB) December 04, 2015
DMG Productions announces the upcoming airing of Innovations with Ed Begley, Jr., scheduled to broadcast on Tuesday, December 8, 2015 at 7:30aET via Discovery Channel.
Innovations will educate on Birla Carbon, the largest global manufacturer and supplier of high quality carbon black additives. Viewers will get a behind the scenes look at Birla Carbon's state of the art manufacturing center in Tiszaújváros, Hungary to learn about their focused efforts on sustainable operational excellence in carbon black manufacturing and product development.
In addition, Innovations will explore MGC Pure Chemicals America, Inc. (MPCA), innovators in high purity chemicals since the 1980s. Audiences will be educated on MPCAs manufacturing capabilities, which include creation of the highest purity stabilizer-free hydrogen peroxide and ammonium hydroxide in the world.
Viewers will also learn about Keyence, a leading supplier of sensors, measuring systems, laser markers, microscopes, and machine vision systems worldwide. In addition to its world-class products, audiences will learn about how Keyence products are designed to add value to customers by combining superior technology with unparalleled support.
"Innovation and technology are constantly changing the way things are made," said Robert Sikich, Senior Producer for the series. "We're proud to educate our viewers on the topic."
About Innovations & DMG Productions:
Innovations, hosted by award winning actor Ed Begley, Jr., is an information-based series geared toward educating the public on the latest breakthroughs in all areas of society. Featuring practical solutions and important issues facing consumers and professionals alike, Innovations focuses on cutting-edge advancements in everything from health and wellness to global business, renewable energy, and more.
DMG Productions (responsible for creating the Innovations show) includes personnel specialized in various fields from agriculture to medicine, independent films to regional news and more. Our field producers work closely with experts in the field to develop stories. This powerful force enables us to consistently produce commercial-free, educational programming that both viewers and networks depend on.
For more information visit: http://www.InnovationsTelevision.com or contact Robert Sikich: (866) 496-4065 x 805 or: Robert@innovationstelevision.com.