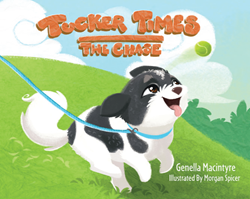 Dallas, Texas (PRWEB) December 01, 2015
Tucker is a playful pup who loves to romp and play on his walks with his mom, but there are important lessons he needs to learn along the way. Tucker Times: The Chase (Brown Books Publishing Group) by debut children's author Genella Macintyre, with illustrations by Morgan Spicer, is based on the life of Tucker, a real dog, and his owner, who is the book's author.
"I believe young readers will resonate with Tucker and his antics," says Macintyre. "I've watched for years as Tucker would charm everyone he encountered, and I've seen first-hand the joy he brings. I wanted to share that same joy with young readers."
Tucker is a bishon/jack russell terrier that came into Macintyre's life and has become her "furry child," spreading happiness wherever he goes.
Through vibrant illustrations and flowing dialogue, Tucker is gently trained by his mom about the appropriate ways in which to play. He is placed in a variety of situation, in which he is encouraged by his loving mother to be guided into the right way to play.
"Tucker is a pure example of the ability for joy and acceptance to be spread," says MacIntyre. "Wherever Tucker is, happiness quickly follows, and I think young readers will see his spirit in the mixture of content and great illustrations."
Tucker Times also includes real-life photos in the back of the book of Tucker and his loving owner, Macintyre.
"I love the illustrations in Tucker's book because Morgan Spicer completely caught Tucker's personality in each one," says MacIintyre.
Author Genella Macintyre is a corporate trainer who lives in Brandon, Manitoba. She is the president of Partners in Discovery Ltd., a company designed to help organizations and individuals improve the quality of personal and professional living.
For more information and to purchase Tucker Times: The Chase, please visit http://www.TuckerTimesBooks.com
About Brown Books Publishing Group (BBPG)
Founded by Milli Brown in 1994, Brown Books Publishing Group is a full-service, independent publisher of high-quality books across all genres, from nonfiction to fiction. Committed to producing award-winning books for authors who choose to retain the rights to their intellectual property, Brown Books publishes more than one hundred titles a year and has won numerous prestigious awards, including the Writer's Digest Grand Prize, Mom's Choice Award, Foreword Book of the Year, Gold Ink Award, Axiom Business Book Award and many more. Brown Books authors have appeared on programs and channels such as the "Today" show, Fox News, "Face the Nation," CNN and BBC News. They have been featured in publications such as USA Today, Publishers Weekly, and The New York Times. In addition, BBPG authors have been guests on NPR programming, including "The Diane Rehm Show," "Morning Edition," "The Takeaway," and "Tell Me More." To learn more, visit http://www.BrownBooks.com.
About The Agency at Brown Books (ABB)
The Agency at Brown Books is a full-service public relations, marketing and branding firm within a publishing house. As a subsidiary of Brown Books Publishing Group, The Agency is backed by 20 years of excellence and experience, and the one-of-a-kind, integrated platform is available to Brown Books' authors as well as to non-affiliated authors, established writers, entrepreneurs, CEOs and anyone seeking smarter strategies for building their business. For more information, visit http://www.TheAgencyAtBB.com.
Media Contact: Vicki Morgan, 972-381-0009, vicki(dot)morgan(at)theagencyatbb(dot)com