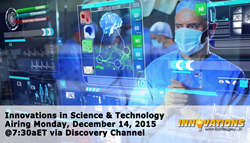 Jupiter, FL (PRWEB) December 11, 2015
DMG Productions announces the upcoming airing of Innovations with Ed Begley, Jr., scheduled to broadcast on Monday, December 14, 2015 at 7:30aET via Discovery Channel.
Audiences will learn about Genomind, a personalized medicine company bringing innovation to mental healthcare through genetic testing. Innovations will educate on how Genomind is committed to partnering with clinicians in the field of psychiatry to improve their patients' lives.
In addition, Innovations will showcase SOTIO, an international biotechnology company developing new medical therapies focusing on the treatment of cancer and autoimmunity diseases. Viewers will learn how SOTIO conducts research concerning the actual platform of active cellular immunotherapy.
Innovations will take a behind the scenes look at Translational Research in Oncology (TRIO), and will focus on clinical study, and what it means to be in a clinical trial. Viewers will be educated on the importance of clinical trials for cancer patients, and will learn how they can be the best possible standard of care compared to an experimental treatment that may be better at treating their cancer.
Viewers will also learn about Just Believe, a detox and residential drug and alcohol addiction treatment center which offers personalized treatment options to individuals dealing with drug and alcohol treatment. Viewers will learn about Just Believe's unique approach and ability to diagnose and treat addiction and mental health disorders.
"The world is constantly changing, and with it bring new ideas and innovations every day," said Michele Nehls, Senior Producer for the series. "We're proud to enlighten viewers on these revolutionary services."
About Innovations & DMG Productions:
Innovations, hosted by award winning actor Ed Begley, Jr., is an information-based series geared toward educating the public on the latest breakthroughs in all areas of society. Featuring practical solutions and important issues facing consumers and professionals alike, Innovations focuses on cutting-edge advancements in everything from health and wellness to global business, renewable energy, and more.
DMG Productions (responsible for creating the Innovations show) includes personnel specialized in various fields from agriculture to medicine, independent films to regional news and more. Our field producers work closely with experts in the field to develop stories. This powerful force enables us to consistently produce commercial-free, educational programming that both viewers and networks depend on.
For more information visit: http://www.InnovationsTelevision.com or contact Michele Nehls: (866) 496-4065 x 822 or: michele(at)innovationstelevision(dot)com.