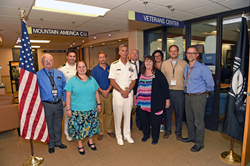 Being consistently on the Best for Vets list says SLCC is doing a great job serving our veterans and dependents.
Salt Lake City, Utah (PRWEB) December 16, 2015
Salt Lake Community College was for the fifth time ranked by Military Times as a Best for Vets two-year college.
Serving approximately 1,300 veterans, SLCC ranked 18 on the national publication's Best for Vets: Colleges 2016 list, which recognizes schools for their commitment to providing a wide array of educational opportunities and benefits for veterans and their families. The rankings are listed in several military publications produced by Gannett Government Media, a subsidiary of Gannett Co., Inc.
"Being consistently on the Best for Vets list says SLCC is doing a great job serving our veterans and dependents," said Darlene Head, manager of SLCC Veterans Services. "By working with departments on campus, our many community partners in education and the local VA, we bring the best services we can on campus to serve those who have served our country. And we continue to look for ways to serve our veterans attending SLCC over multiple campuses. I am excited to announce the opening of our second Veterans Center on the South City Campus in January 2016. With centers on our two largest campuses we can better serve and support our veterans and their dependents. We also recently added an employee to provide outreach to the West Valley, Jordan and Miller campuses with the goal to open an office at the Jordan Campus."
SLCC has begun coordinating with Veterans Services from various universities in the area to help veterans plan to transfer to four-year institutions. SLCC is also working with residents of the VA Valor House, which provides temporary transitional housing for veterans and assists them with training and education toward finding employment.
SLCC has ranked in the top 20 for two-year schools since making the Best for Vets list in 2011. For this year's list, more than 600 institutions of all types took part in surveys that documented an array of services, special rules, accommodations and financial incentives offered to military and veteran students and other aspects of veteran culture on campuses. The Military Times also used data compiled by the U.S. Education Department.
Salt Lake Community College is an accredited, student-focused, urban college meeting the diverse needs of the Salt Lake community. Home to more than 60,000 students each year, the College is Utah's leading provider of workforce development programs. SLCC is also the largest supplier of transfer students to Utah's four-year institutions and a perennial Top 10 college nationally for total associate degrees awarded. The College is the sole provider of applied technology courses in the Salt Lake area, with multiple locations, an eCampus, and nearly 1,000 continuing education sites located throughout the Salt Lake Valley. Personal attention from an excellent faculty is paramount at the College, which maintains an average class size of 20.