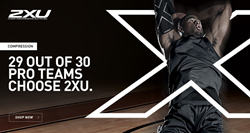 The expansion into basketball is a key addition to our portfolio and commitment to empowering athletes.
Carlsbad, CA (PRWEB) December 02, 2015
Australia's 2XU ("Two Times You"), a world leader in performance sports and compression apparel, announces a new range to their ever-growing line of athletic gear; basketball. The collection, which consists of tights, shorts, sleeves and socks, available now on 2XU's website, offers the high-grade, medical compression that the brand is widely known for, allowing basketball players to train, perform and recover faster.
2XU's success in basketball is already evident as 29 out of 30 professional teams currently use their graduated compression gear without the brand paying endorsement or sponsorship fees. Additionally, 2XU is the official partner of the Women's National Basketball League in Australia and the Australian Women's International Basketball. Pro players have long touted 2XU compression as vital in maximizing performance and recovery, and minimizing sprains, strains and bruises. The gear also offers temperature control via breathable fabric to keep players comfortable.
"The expansion into basketball is a key addition to our portfolio and commitment to empowering athletes," says Mike Lyons, 2XU Director of US Marketing. "We are dedicated to engineering world class garments from fabrics delivering tangible results."
According to Keith Jones, Senior Vice President of Basketball Operations and Head Athletic Trainer for the Houston Rockets, who has recommended 2XU compression clothing to his athletes for years, "The physical demands on professional athletes are enormous. Athletes are training harder to play more games and perform at even greater levels. In order to so, recovery is a fundamental component."
About 2XU: 2XU ("Two Times You") was launched in January 2005, and is driven by a relentless company mission to advance human performance through the development of world-leading athletic garments. In its first year, 2XU graced the skin of multiple World Champion athletes and has since formed powerful alliances and key partnerships with World Champions across the globe in numerous sports including Triathlon, Cycling, NBA, Swimming, Netball, AFL, Soccer, NRL, NFL and Running. 2XU is also the exclusive Official Compression Supplier to the Australian Institute of Sport.
Founded and based in Melbourne, Australia, 2XU is fast becoming the most technical sports brand in the world. Designed and tested in consultation with industry experts, all garments employ intelligent physiological design, cutting edge performance fabrics and construction. The premium Australian brand is now stocked in multiple countries around the world.
To learn more about 2XU's basketball collection, please visit http://www.2xu.com/us/sport/basketball/. For more information on 2XU, please visit http://www.2xu.com.