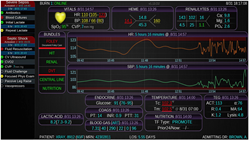 We believe that the Decisio Patient Dashboard is going to revolutionize the way clinicians treat their patients and we are very happy to be recognized in this way by leaders in the healthcare industry.
Houston, TX (PRWEB) December 02, 2015
Decisio Health announced today that it has been selected as a finalist in this year's Fierce Innovation Awards: Healthcare Edition, an awards program from the publisher of FierceHealthIT, FierceHealthcare, and FierceMobileHealthcare. Decisio was recognized as a finalist in the category of Clinical Information Management.
Decisio Health was selected as a finalist for its innovative, industry leading product, Decisio Health Patient Dashboard.
Finalists were selected by a distinguished panel of CIOs from renowned U.S. hospitals and healthcare systems, including Allina Health, Rush University Medical Center, Aspirus, and JFK Health System, among others. A complete list of judges can be found at https://www.fierceinnovationawards.com/healthit/2015#our_judges.
All applications were evaluated based on the following criteria: care efficiency, competitive advantage, financial impact/value, market need, patient experience/satisfaction, quality of care and patient outcomes, and overall fierceness and innovation. Finalists were selected based on calculation of the judges' scores in each area.
"We are incredibly excited to be recognized as a finalist of the 2015 Fierce Innovation Awards," said Bryan Haardt, CEO of Decisio Health. "We believe that the Decisio Patient Dashboard is going to revolutionize the way clinicians treat their patients and we are very happy to be recognized in this way by leaders in the healthcare industry."
The Decisio Health Patient Dashboard is based on platform technology exclusively licensed from the University of Texas Health Science Center and their team of top trauma surgeons and intensivists. The platform provides a novel real-time visual integration of critical care information, which increases situational awareness for clinicians. Critical patient data is color coded green (within acceptable limits), yellow (showing signs of unacceptable limits) and red (outside of acceptable limits, needs attention) so that clinicians can quickly be alerted to potential serious issues such as sepsis and can act on it that much sooner. Having this information readily available shortens the amount of time a clinician spends gathering data and allows for quicker implementation of life-saving protocols.
Unlike other resources, Decisio Health arms clinicians with immediate, high impact information they need to maximize clinical outcomes. This is achieved in three key ways: 1) Increasing the amount of time available to clinicians to be more consultative and proactive in their decision making via simple, visual and instantaneous access to the most critical patient data trends. 2) Identifying areas of clinical deficiencies that hospitals are often unable to previously establish, enabling the setting of new baseline standards that drive measurable, actionable results that can significantly impact hospital financial health. 3) Improving the care experience by using data to transparently build a bridge between clinicians, patients and family.
To learn more about Decisio Health visit, http://www.decisiohealth.com
About FierceMarkets
FierceMarkets, a division of Questex, LLC, is a leader in B2B e-media, providing information and marketing services in the telecommunications, life sciences, healthcare and technology industries through its portfolio of email newsletters, websites, webinars and live events. Every business day, FierceMarkets' wide array of digital publications reaches more than 2 million executives in more than 100 countries. 
Current publications include:  Telecom: FierceWireless; FierceCable; FierceDeveloper; FierceOnlineVideo; FierceTelecom; FierceWirelessTech; FierceWireless:Europe /TelecomsEMEA,  FierceInstaller; Smart Grid News; and Telecom Asia; Healthcare: FierceEMR; FierceHealthcare; FierceHealthFinance; FierceHealthIT; FierceHealthPayer; FierceHealthPayerAntiFraud; FierceMobileHealthcare; FiercePracticeManagement and Hospital Impact; Life Sciences: FierceAnimalHealth; FierceBiotech; FierceBiotechIT; FierceBiotechResearch; FierceCRO; FierceDiagnostics, FierceDrugDelivery; FierceMedicalDevices; FiercePharma; FiercePharmaAsia; FiercePharmaMarketing; FiercePharmaManufacturing; and FierceVaccines; Technology: FierceBigData; FierceCIO; FierceCities; FierceContentManagement; FierceDevOps; FierceEnterpriseCommunications; FierceFinanceIT; FierceGovernmentIT; FierceITSecurity; FierceMobileIT; ;  FierceCMO; and FierceRetail.
About Decisio Health
Decisio Health is a healthcare IT company that helps provider organizations increase the amount of time available to clinicians to be more patient-focused and proactive in their decision making process. By utilizing real time and trending data, healthcare professionals are able to minimize the time it takes to gather the critical data needed to make often life-saving decisions at the most crucial times for their patients. Based on technology developed at the University of Texas Health Center, the FDA cleared Decisio Health Patient Dashboard gathers data from existing hospital monitoring systems to provide the most current and valuable information in one easy-to-view location.
For more information please visit http://www.decisiohealth.com.
###