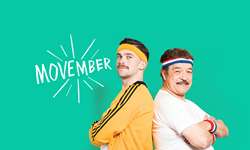 New York, New York (PRWEB) December 01, 2015
In honor of Movember's contributions to men's health and to celebrate this year's campaign, The GUILD Agency is hosting an event this Thursday, December 3, featuring The Movember Foundation's Co-Founder and CEO, Adam Garone. The event will be hosted at Interface (140 West 30th Street New York, NY 10001) from 6:30 to 9:00 p.m. and consists of drinks, mingling, and a fireside chat with Adam hosted by SiriusXM co-host of "Wake Up! With Taylor's" Kenny Zimlinghaus. It's a great chance to learn about Movember's origins and how this year's campaign grew more awareness for men's health.
Since 2003, Movember has raised over half a billion dollars to support over 800 men's health programs in 21 countries. Adam leads a global community of over 5,000,000 Mo Bros and Mo Sistas who dare to be different and have fun while raising awareness and supporting the fight against prostate cancer, testicular cancer, mental health, among other issues affecting men's wellness.
"Men are very bad at talking about their health and how they feel," said Garone. "But Movember has got men talking about and acting on their health on a mass scale."
Sponsored in part by Blue Point Brewery, tickets and additional information about the event are available on Eventbrite.
About The GUILD Agency
The GUILD Agency Speakers Bureau & Intellectual Talent Management is a full-service talent and media agency engaged in the dissemination and proliferation of cutting-edge ideas, talent, literature, education, and entertainment. Exclusive talent includes TOMS founder Blake Mycoskie, Life Is Good founders Bert Jacobs and John Jacobs, FEED Projects co-founder Ellen Gustafson, among others.
About Interface
Interface is a collaborative membership space for the curious, the disruptive, the engaged, and the mindful. A reflection of the people who comprise it, Interface was created to usher in a burgeoning neighborhood of those who seek to enrich their local and global communities. During the day, Interface is defined by the members within. In the evening, the space opens up to curated events and programming, ensuring that our collective community is constantly stimulated, challenged and inspired.
About Blue Point Brewery
Blue Point Brewery began in 1998 as two guys with a dog, a van, and a shared dream. Mark and Pete started out brewing beer that they liked to drink and, now, nearly 20 years later, that's exactly what Long Island's first microbrewery is still doing.