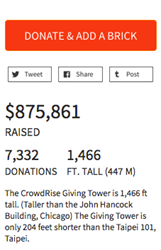 New York, NY (PRWEB) December 01, 2015
What: CrowdRise, the largest crowdfunding platform for good, offers the most unique way to take advantage of #GivingTuesday including amazing contests and incentives for donors, a remarkable virtual reality experience that takes giving back to new heights (literally), and bonus prizes for charity with its Giving Tower Holiday Challenge, the largest #GivingTuesday (Dec. 1, 2015) campaign.
Who: Robert Wolfe, Co-Founder of CrowdRise, will be available to talk about why over 1,000 charities nationwide are participating in the CrowdRise Giving Tower, the incredible technology behind the campaign, and how this model makes raising money for charity so much fun.
Details:
1) Donor Incentives
a) Anyone who donates $25 to their favorite charity will be entered to win a $2,500 shopping free from Century 21 and an amazing 5-Night Vacation at a luxury residence in Belize.
b) United Airlines will provide up to 10 million bonus miles to MileagePlus members who donate to any charity
i) Donate $50-$99 – Earn 250 bonus miles
ii) Donate $100-$249 – Earn 500 bonus miles
iii) Donate $250 or more – Earn 1,000 bonus miles
2) Virtual Reality Experience
The Giving Tower campaign and free app offer charities and their supporters VR technology at no cost to bring to life their collective efforts on the biggest charitable day of the year, held this year on Tuesday, Dec. 1.
CrowdRise's VR app will take the user into a virtual city that shows the Giving Tower, juxtaposed amongst the world's most iconic buildings, as the Giving Tower grows built brick by brick. Every brick in the tower represents a donation to any of the 1,000-plus participating charities. Starting today, the free CrowdRise Giving Tower app will be available in the iTunes store and Google Play. Last year's campaign raised $4.1 million and constructed a tower that nearly reached the tallest building in the world—the Burj Khalifa, in Dubai. This year, organizers say they want to build the tower to the moon.
As donations are made throughout the day on Dec. 1 on http://www.crowdrise.com/givingtower or the mobile Giving Tower app, donors, organizations and everyone else can interact with the tower while it grows. The massive, spinning Giving Tower will be erected in real-time, serving as the centerpiece of a mash-up of cities that forms one futuristic 3-D metropolis. The virtual reality landscape can be viewed from different heights or from a bird's eye view above the city, and navigated by turning your head or explored by fingertip. As the tower grows, new VR experiences will be unlocked. Users can scan the buildings for videos produced by RYOT and be transported to, for example, Nepal days after the devastating earthquake disaster, or find themselves swimming with dolphins and more.
The app will support users with or without Google Cardboard so that anyone can enjoy the full VR experience. Those using Google Cardboard will be able to experience the environment in 3D for a truly immersive experience.
3) Charity Prizes
The charity to raise the greatest amount of money on #GivingTuesday, from 12:00am ET - 11:59:59pm ET, will win $25,000 for their cause.
About CrowdRise
CrowdRise is the world's largest and fastest growing online platform dedicated exclusively to charitable fundraising. CrowdRise is used by millions of individuals, tens of thousands of charities, hundreds of companies and many of the most famous artists and athletes in the world to creatively leverage their resources and networks to unlock the power of the crowd and raise hundreds of millions of dollars to support positive social missions.
Founded by actor Edward Norton, film producer Shauna Robertson and Robert and Jeffrey Wolfe, CrowdRise has conceived, implemented and powered campaigns that have raised over $250 million to date. For more information, visit http://www.CrowdRise.com.