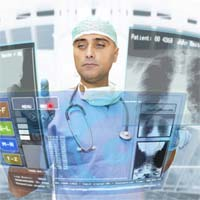 The median overall survival and disease-free survival was 51 and 47 months, respectively...
Raleigh, NC (PRWEB) December 03, 2015
Doctors in Canada say a combination of radiation and surgery has become their preferred approach to treating malignant pleural mesothelioma. Their recently-published study results are the subject of a new article on the Surviving Mesothelioma website. Click here to read it now.
Researchers at Princess Margaret Cancer Centre in Toronto analyzed the results of 62 pleural mesothelioma patients treated first with intensity modulated radiation therapy (IMRT) to shrink their tumors and then with extrapleural pneumonectomy surgery to remove them.
"The median overall survival and disease-free survival was 51 and 47 months, respectively, in epithelial subtypes, compared with 10 and 8 months in biphasic subtypes," reports Marc de Perrot, MD, a thoracic surgeon and one of the authors of the new study.
The mesothelioma patients received 25 Gy of radiation over a one-week period with "boosts" of 5 Gy to areas that were deemed to be at particular risk. After radiation, EPP was used to remove the diseased pleura, the nearest lung, and other membranes and tissues.
"Although EPP remains a controversial approach to treating mesothelioma, the results of this study suggest that neoadjuvant radiation may improve the odds for mesothelioma patients who undergo this radical surgery," observes Alex Strauss, Managing Editor for Surviving Mesothelioma.
To learn more about the Canadian study and novel approaches to malignant mesothelioma, see New Mesothelioma Treatment Approach Improving Survival, now available on the Surviving Mesothelioma website.
de Perrot, M et al, "Accelerated hemithoracic radiation followed by extrapleural pneumonectomy for malignant pleural mesothelioma", October 19, 2015, Journal of Thoracic and Cardiovascular Surgery, Epub ahead of print, http://aats.org/annualmeeting/program-books/2015/25.cgi
For nearly ten years, Surviving Mesothelioma has brought readers the most important and ground-breaking news on the causes, diagnosis and treatment of mesothelioma. All Surviving Mesothelioma news is gathered and reported directly from the peer-reviewed medical literature. Written for patients and their loved ones, Surviving Mesothelioma news helps families make more informed decisions.