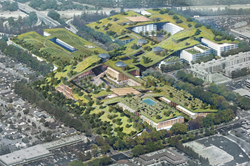 "It is this type of capability that separates WC&A from our competitors in the industry." -- Des Hague, Co-Founder of Aegis Enterprises and Partner of WC&A.
(PRWEB) December 15, 2015
Des Hague, Co-Founder of Aegis Enterprises and Partner of WC&A and Bill Caruso, Founding Partner of WC&A, are pleased to announce that WC&A was selected as the Hospitality Design Consultant for the new Hills at Vallco development in Cupertino, CA. Located in the heart of Silicon Valley, The Hills at Vallco has been designed as an exciting, sustainable and walkable neighborhood that puts people first and encourages community engagement, wellness and healthy lifestyles. Plans include a mix of retail, entertainment, recreation, dining, offices, housing, open space and public amenities. The Hills at Vallco also features an unprecedented 30-acre community park and nature preserve integrated within the largest green roof in the world. For more information: http://thehillsatvallco.com/.
This eco friendly plan of this project, the largest scale of its kind in the world, will target LEED Platinum certification. To support this important goal from a hospitality planning and design perspective, WC&A's work includes reduction of energy and water usage across multiple units in all hospitality areas. WC&A plans to accomplish this with the integration of leading edge technology like "Energy Star" equipment, water saving equipment, energy efficient lighting, on demand ventilation, heat reclamation systems that allow the heat generated by refrigeration units to be recovered for use in other areas or systems and innovative recycling and waste management strategies which may include pulping systems, waste oil recovery systems, composting systems and special recycling policies.
"The Hills project allows WC&A to push the sustainability envelop with emerging technologies that will help the team attain a virtually net zero site," said Steve Young, WC&A Partner and Director of Design. "WC&A is extremely proud to be part of this amazing project."
"As someone who is keenly interested in lessening our impact on the environment I am personally thrilled to be part of this ground breaking initiative," stated Hague. "Being able to play a significant role in seeing breakthrough, environmentally friendly designs and systems implemented is very gratifying. It is this type of capability that separates WC&A from our competitors in the industry. Hague was formerly the chairperson for the National Restaurant Association's Sustainability and Social Responsibility efforts.
About WC&A, Inc.:
William Caruso & Associates, Inc. specializes in commercial food/beverage and laundry facilities planning and design services. Headquartered in Denver with offices in Athens, Berlin, Duesseldorf, Philadelphia, San Francisco and Scottsdale, WC&A has completed over 12,000 projects in 35 countries, an unmatched record in a very specialized industry. WC&A's diverse project portfolio includes completed food and laundry service facilities for hotels, universities, schools, correctional systems, hospitals, corporate headquarters, convention centers, stadiums, arenas, and others.
For more information about WC&A: http://www.wcarusoassoc.com
Contact: Renate Siekmann
William Caruso & Associates, Inc.
8055 East Tufts Avenue, Suite 1320, Denver, CO 80237
Phone: 303.649.1600 x211
Email: rsiekmann(at)wcarusoassoc(dot)com
About Des Hague
A renowned executive with over twenty-five years of leading global public and private companies, Des Hague has established himself as an innovative thinker in the international business world. His forward-thinking approach pushes companies toward sustainable growth, granting them a position as resilient competitors within their respective industries. Hague most recently was the CEO and President of Centerplate, Inc, the largest event hospitality firm in North America. source: http://deshague.com . Hague also serves on the boards of DVETelepresence, PING HD, WC&A, Inc, and the Stamford Youth Foundation along with advising on several start-up ventures.
Along with his professional projects, Des Hague contributes significant amounts of time and energy to non-profit charitable work. Hague has helped raise more than $100 million over the past few years for many non-profits, including the Stamford Youth Foundation, a local organization offering multiple after-school programs for young people, and The Journey Home, a Baltimore-based Foundation fighting homelessness. Hague views AEGIS, LLC. as a perfect blending of business and philanthropic activities.
For more about Des Hague, visit: http://deshague.com, http://deshaguereviews.com
Des Hague - LinkedIn : https://www.linkedin.com/in/deshague
Contact:
DesHague.com
EMail: deshague(at)aegisenterprisesllc(dot)com