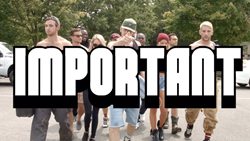 Nashville, TN (PRWEB) December 01, 2015
Today Coast 2 Coast Mixtapes announce the release of "Important", the latest music video by recording artist B3. The video can currently be viewed in its entirety at the Coast 2 Coast Mixtapes website.
B3 is currently seeking press opportunities, interviews, features, and more. He can be reached through his official Twitter page.
About B3: Robbie Betchley (born August 27, 1995), and better known by his stage name B3, is an up-and-coming rap artist hailing from Nashville, Tennessee. Although he has a love for lacrosse, music is his ultimate passion. That passion for music started with a dream of being a drummer in a metal band. At 14 years old, Robbie practiced relentlessly perfecting his craft and bringing that same drive he uses in sports to his drumsticks.
After his sophomore year of high school he discovered writing music. It started with Robbie and his friends messing around rapping back and forth and writing lyrics down in study hall. It led to B3 dropping his first mixtape "Nuisance" around the middle of his junior year. "Nuisance" (which B3 calls "just a bunch of shitty songs thrown together") led to a second mixtape "My Life, Your Entertainment," which came out later that year. Enthusiastic reactions from friends and fans boosted his confidence and B3 put out "Not Even High" featuring the popular track "Jeans." Last fall, he released his fourth mixtape called "Valedictorian," featuring a single of the same name.
When he's not studying, playing D1 lacrosse, or recording new songs B3 is performing. He has been seen in shows from Nashville, Charlotte, Atlanta, Brooklyn, New York City and has worked with many artists including performances with Ying Yang Twins, Migos, Freeway, Jose Guapo, Scotty ATL, JellyRoll, Bezzled Gang, Worm, O.N.E, Lex Top Dollar, Nathaniel, StarGotBars, Dino2Times, Kushy, Sway, Slam, Soulo P, Chris Shuff, and many more.
This busy, talented, young man continues to chase the dream of touring around the world and sharing his music. Music has already led him to meet people he only dreamed of meeting and doing things he only dreamed of doing, and he's just getting started. B3 says, "I feel nothing is impossible, set your mind to it and it can be done." To stay up on B3's latest music videos, subscribe to his official Youtube channel.
About Coast 2 Coast Mixtapes:
Coast 2 Coast Mixtapes are the most widely distributed mixtapes in the world, with over 100 million downloads/plays generated by over 300 volumes officially hosted by major artists. Coast 2 Coast has a solid reach in the new music industry with a digital magazine, DJ coalition, industry tips blog, yearly convention, and more. Coast 2 Coast Mixtapes represents a unique opportunity for artists of all urban genres, from major to indie. For more information, visit http://www.coast2coastmixtapes.com.