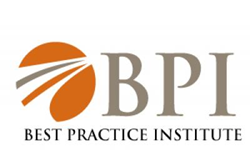 The Best Practice Institute (BPI)] is now accepting survey responses for its latest Pulse Survey on Global Talent Strategies.
(PRWEB) December 02, 2015
The Best Practice Institute (BPI) is now accepting survey responses for its latest Pulse Survey on Global Talent Strategies.
The Best Practice Institute (BPI) conducts monthly pulse surveys on Talent Management, Organization Change, and Leadership Development-specific topics. The surveys, which take 5-10 minutes to complete, are designed to increase the frequency of data on focal areas resulting in a broader range of topics and an overall deeper body of content. All respondents receive an executive summary of the survey results.
The deadline to complete the latest BPI Global Talent Strategies Pulse Survey will be December 15, 2015. Participate here.
The Best Practice Pulse Surveys identifies trends, findings, and critical success factors of innovators, practitioners, executives, CEOs and consultants who have made a significant positive impact on their organizations and on modern leadership and management principles and practices.
BPI has been leading research, highlighting exceptional business and talent practices since 2006. According to Louis Carter, BPI founder and CEO, "BPI's Best Practice Pulse Surveys both provide an opportunity for organization leaders to share their work (from tactical front-end goals through solutions) as well as the see their data benchmarked monthly against other leading global organizations. The shorter structure will also allow for less survey fatigue, making the process more fun and rewarding for those who participate."
HR, Talent, Leadership, and Learning executives and learning professionals may join this talent and knowledge-sharing movement's email distribution list and get innovative research updates, cases, articles, opportunities to participate in monthly Pulse surveys, and more by becoming a member of BPI. Or you may receive information by registering for BPI e-mail updates.
ABOUT BEST PRACTICE INSTITUTE
BEST PRACTICE INSTITUTE is a leadership and management association focusing on best and innovative business practices. BPI has more than 42,000 subscribers, from managers to senior and C-level executives. It has corporate and individual members in about two-dozen countries on five continents, including executives and employees of more than half of the Fortune 500. It's social performance management tool, http://www.skillrater.com won the Top HR Product of the Year Award a the HR Tech Conference in Las Vegas.