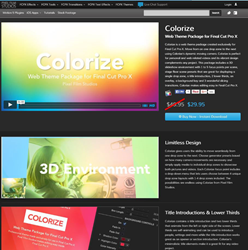 Colorize makes editing easy in Final Cut Pro X.
Aliso Viejo, CA (PRWEB) February 05, 2016
Colorize is a web theme package created exclusively for Final Cut Pro X. Move from on one drop zone to the next using Colorize's dynamic moving camera. Colorize is perfect for personal and web related videos and its vibrant design complements any project. This package includes a 3D slideshow environment with 1 to 5 focus points per scene, stage floor scene presets that are great for displaying a single drop zone, a title introduction, 2 lower thirds, an overlay, a background key and 3 wonderful slicing transitions. Colorize makes editing easy in Final Cut Pro X.
Colorize gives users the ability to move seamlessly from one drop zone to the next. Choose generator presets based on how many camera movements are necessary and simply apply media to individual drop zones to showcase both pictures and videos. Each Colorize focus point includes a drop-down menu that lets users choose between 4 unique drop zone layouts with 1-4 drop zones included. The possibilities are endless using Colorize from Pixel Film Studios.
Colorize contains a title introduction and two lower thirds that animate from the left or right side of the screen. Lower thirds are self-animating and can be used to introduce people, settings and more while the title introduction works great as an opener or section introduction. Colorize's minimalistic title elements make it a great fit for any video project.
Enhance scenes with additional style using Colorize's included background key and overlay. The self-animating background key is perfect as a backdrop for placing text and keyed images on top of. Set the tone of a video using animating backgrounds with a variety of customizable controls. Colorize's beautiful blended self-animating overlay allows users to add animated color mixes on top of videos as an adjustment layer so that users can bridge together scenes cohesively.
Seamlessly flow from one scene to the next using one of Colorize's 3 web-themed transitions. Colorize's transitions slice scenes into sections within the viewer window. Each transition contains a unique animation and style that is fully customizable in the inspector window. Pixel Film Studios transitions give users the variety they need for any project.
Established in 2006, Aliso Viejo, California-based Pixel Film Studios is an innovative developer of visual effects tools for the post-production and broadcast community. Their products are integrated with popular non-linear editing and compositing products from Apple FCPX. Apple, the Apple logo, Mac OS X, and Macintosh are registered trademarks of Apple Inc. in the U.S. and/or other countries. All other trademarks and trade names are the property of their respective owners.