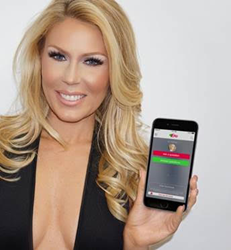 Los Angeles, CA (PRWEB) December 01, 2015
Former Real Housewives of Orange County Star Gretchen Christine Rossi, the Social Media & Fashion Mogul, has taken her experience arguing on the hit Bravo show to team up with Zip, the Question Answer App, to develop a friendly way to settle disputes.
Zip, The Question Answer App was born out of the need to settle a dispute. While at dinner with now business partners Ric Militi and Alanna Markey of Crazy Raccoons, the parent company of Zip The Question Answer App, a dispute about Housewives arose. As the argument continued, it was clear to Militi, founder of the app, Rossi was a great debater and would not only be a great advocate, but a great partner, too.
"Having Gretchen on the Zip team made perfect sense. She is a brilliant business woman and her success as a TV star still looms, even years after her departure from Housewives. I challenge anyone to have a debate with her and walk away a winner...she's just too good!" said Militi.
Zip, The Question Answer App, available to download for free, has also been implemented by iHeart Media who started using the app for audience engagement on the radio in October in the Los Angeles market. Recently Fox 5 News in San Diego began to engage with their audience and ask viewers' opinions on newsworthy topics using the app.
Without the need of a Venture Capitalist or Investors, this patent protected technology is grabbing the attention of Chief Marketing Officers in all forms of media.
"I've had the opportunity to work with several start-ups, and it's absolutely amazing that Crazy Raccoons has been able to accomplish everything to date without outside investment. Being self-funded in this day and age is unheard of. Most companies do not have the freedom that comes with not being beholden to venture capitalists," said Adam Aparicio, General Counsel of Crazy Raccoons.
Zip, The Question Answer App in action: http://ow.ly/Vl1nI
Although Zip, The Question Answer App, was designed as a fun and easy way to settle arguments, it's now introducing a whole new, simple, and proprietary way for people to communicate with media outlets (i.e. TV, radio, print, digital, etc.). The rapidly growing interactive app is revolutionizing the social media communications space with their new method for users to engage with their favorite celebrities, media, events, brands, venues and even employers.
Zip, The Question Answer App, is available for download for free at the App Store for iOS and the Google Play Store for Android.
For additional information and to download, please visit http://www.thezipapp.com or contact chelsea(at)chicexecs(dot)com.