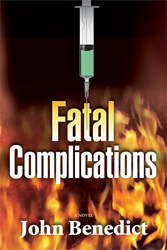 "An action packed medical thriller from the opening page to its stunning end." —Robert Dugoni #1 Amazon and NY Times best-selling author of My Sister's Grave
Longboat Key, FL (PRWEB) December 02, 2015
The Story...
When a colleague's patient suffers a bizarre reaction in the operating room, Luke Daulton, a newly minted anesthesiologist, volunteers to help. Despite the surgical team's best efforts, the patient succumbs to a rare anesthetic complication. Luke becomes perplexed, even suspicious, over their inability to save the woman. Is it possible that the diagnosis was wrong? Or, worse yet, was the diagnosis faked? Luke even wonders if his boss Dr. Katz is involved.
Too busy with the rigors of a new job and his impending fatherhood, Luke is forced to put his suspicions on hold. When his wife, Kim, faces a C-section, his fears are reignited. Could there be a murderer—or murderers—operating in his hospital? Could his wife's obstetrician be involved? When the C-section goes horribly wrong, Luke must launch into action to save his wife and baby and expose the conspiracy he's uncovered.
Praise for Fatal Complications:
"When anesthesiologist Luke Daulton becomes the newest member of the hospital staff, he is quickly confronted with a series of bizarre anesthetic deaths and a conspiracy that just might cost him his life, as well as those of his wife and unborn child. Fatal Complications is a medical thriller that will keep you up late into the night."
—DP Lyle, award-winning author of the Dub Walker, Samantha Cody, and Jake Longly Thriller Series
"With Fatal Complications, a taut medical thriller that is equal parts King and Koontz, John Benedict delivers a devastating tale of infidelity, deception, and bad intentions, proving nothing paints a soul darker than desire, and trying to outrun the past is always the fastest way to fall."
—Joe Clifford, author of Junkie Love and Lamentation
About the Author...
John Benedict is a board-certified anesthesiologist in private practice in Camp Hill, Pennsylvania. He is a graduate of Rensselaer Polytechnic Institute and Penn State University College of Medicine where he also completed a cardiac anesthesia fellowship. Benedict attributes his writing success to the medical authenticity that he brings to his gritty medical thrillers. As one of only a handful of anesthesiologists throughout the country writing fiction, he gives readers unique insights into the human drama, the high stress, and the life-and-death environment of the operating room. Fatal Complications is his third novel, following Adrenaline and The Edge of Death. Dr. Benedict lives in Harrisburg, Pennsylvania, with his wife and three sons.