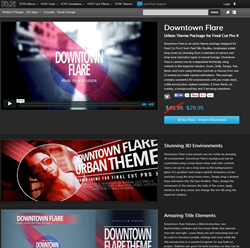 Aliso Viejo, CA (PRWEB) February 09, 2016
Downtown Flare is an urban theme package designed for Final Cut Pro X from Pixel Film Studios. Emphasize stylish drop zones by choosing from a selection of camera and drop zone animation types to reveal footage. Downtown Flare's camera can be manipulated limitlessly using controls in the inspector window. Zoom, Dolly, Sweep, Pan, Boom and more using intuitive controls or choose from one of several premade camera animations. This package contains wonderful 3D environments with pre-made shots, a title introduction, stylized sidebars, 2 lower thirds, an overlay, a background key and 3 amazing transitions.
Downtown Flare scene presets are set within an amazing 3D environment. Downtown Flare's background can be customized using a drop-down menu and color controls. Users can opt to use a drop zone as the background in place of a gradient and unique particle emissions can be switched using the drop-down menu. Simply drag a desired base animation into the FCPX timeline. Then, change the movement of the camera, the style of the scene, apply media in the drop zones and change the text all using the inspector window.
Downtown Flare features a title introduction, two keyframeless sidebars and two lower thirds that animate from left and right. Lower thirds are self-animating and can be used to introduce people, settings and more while the title introduction is a wonderful opener for any final cut project. Sidebars are great for both functions as they can be used effectively for openers and information.
Add further style using Downtown Flare's beautiful background key and overlay tools. The self-animating background key is perfect as a backdrop for placing text and keyed images on top of. Set the tone of a video using animating backgrounds with a variety of customizable controls. Downtown Flare's stylizing overlay allows users to add grid effects, colored blends and animating shapes on top of videos as an adjustment layer so that users can create beautiful and cohesive scenes.
Downtown Flare also comes packed with 3 beautifully stylized urban transitions. Stylistically move from one scene to the next using Downtown Flare's colorful panel wipe. Using the circle wipe reveals footage by dragging the edge of a colorful ring across the screen and a third transition types starts from the center of the screen and zooms in until it becomes the next shot.
"Final Cut Pro X is lacking some essential plugins. We intend to satisfy the needs of fans of FCPX around the world and get them what they need." Said Christina Austin, CEO of Pixel Film Studios.
Established in 2006, Aliso Viejo, California-based Pixel Film Studios is an innovative developer of visual effects tools for the post-production and broadcast community. Their products are integrated with popular non-linear editing and compositing products from Apple FCPX. Apple, the Apple logo, Mac OS X, and Macintosh are registered trademarks of Apple Inc. in the U.S. and/or other countries. All other trademarks and trade names are the property of their respective owners.