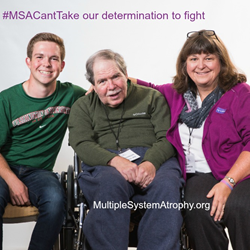 "We're excited to launch our MSA Can't Take campaign to recognize the strength of those affected by the disease and the importance of donations to support MSA research," said Don Crouse, Vice Chairman of the Multiple System Atrophy Coalition.
Charlotte, N.C. (PRWEB) December 01, 2015
The Multiple System Atrophy Coalition has announced the launch of its MSA Can't Take campaign to drive awareness and funds for Multiple System Atrophy (MSA) research, timed today to coincide with Giving Tuesday 2015, a global day of fundraising.
Multiple System Atrophy takes many things from patients including their ability to work and be productive, to do simple daily activities like walking to the mailbox and eating without help, and ultimately life itself. The program is intended to emphasize what MSA Can't Take from those affected by the condition, such as the will to fight and determination to find a cure. Additionally:

With earlier diagnosis, MSA won't take away as much meaningful time for love, hope and laughter with family and friends. The earlier patients know, the more years they have to focus on enjoying what they can still do, especially during the early, less disabling stages.
With more effective treatments, MSA won't take so soon a patient's abilities to control movement and balance, drive a car, remain employed and continue so many other things we take for granted.
When we reach a cure, MSA will no longer be able to take everyone who develops Multiple System Atrophy to a premature end – as is unfortunately the case today.
"We're excited to launch our MSA Can't Take campaign to recognize the strength of those affected by the disease and the importance of donations to support MSA research," said Don Crouse, Vice Chairman of the Multiple System Atrophy Coalition. "As we enter the holiday giving season, we're urging those who know about MSA to consider giving a gift this year and informing others about the contributions they're making. We're encouraging patients will get involved, too, by answering the question: 'What is something MSA can't take from you?' They should then post their replies in video, photo or text on social on the MSA Coalition Facebook page using #MSACantTake."
The MSA Coalition invites patients, family members, friends and co-workers to support the MSA Can't Take campaign and contribute to the fight against Multiple System Atrophy. To support the cause, interested parties can start a crowdfunding effort via CrowdRise and spread the word on social media using the hashtag, #MSACantTake.
For more information, please visit https://www.multiplesystematrophy.org/fundraising/msa-cant-take.
About Multiple System Atrophy
Multiple system atrophy (previously known as Shy-Drager Syndrome) is a rare and fatal disorder with less than 15,000 Americans diagnosed and 35,000 undiagnosed at any given time. According to the National Institutes of Health, "Multiple system atrophy is a progressive neurodegenerative disorder characterized by symptoms of autonomic nervous system failure such as fainting spells (neurogenic orthostatic hypotension) and bladder control problems, combined with motor control symptoms such as tremor, rigidity, and loss of balance and muscle coordination." MSA affects both men and women primarily in their 50s. MSA tends to advance rapidly over the course of 6 to 10 years, with progressive loss of motor skills, eventual confinement to bed, and death. There is no remission from the disease. There is currently no cure available.
About The Multiple System Atrophy Coalition®
The Multiple System Atrophy Coalition is a positive beacon of hope standing up to a little known, rare, insidious disorder. Made up of dedicated volunteers, The MSA Coalition has a primary purpose of encouraging and funding research to find a cure. At present, as much as 75% of all donations go directly into a dedicated Multiple System Atrophy Research Fund to support research projects relevant to the cure, cause, prevention, improved treatment, diagnosis and/or understanding of Multiple System Atrophy. Oversight of the research grant review process takes the form of a world-class scientific advisory board (SAB) of MSA expert scientists and clinicians who are dedicated to ensuring the most promising MSA research proposals are evaluated, highlighted and recommended for funding. Through their website, social media discussion forums and a dedicated toll free support line (1-866-737-5999) The MSA Coalition provides much needed emotional support to patients and their families. The MSA Coalition sponsors and organizes an annual patient and family conference providing people with the opportunity to learn more about MSA and to develop a sense of community. The MSA Coalition also produces and distributes educational materials to the MSA community and healthcare practitioners.
For more information or to donate to The Multiple System Atrophy Coalition, please visit: http://www.MultipleSystemAtrophy.org