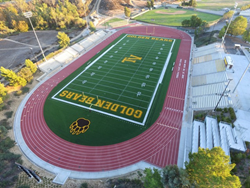 We can invest in prevention now, or our children can pay later."
(PRWEB) December 03, 2015
From Boston to Los Angeles, colleges, high schools and parks across the nation are embracing the idea of greater safety in synthetic turf sports fields. Whether the field uses traditional sand and rubber infill, or the newer generation of organic infill, improving safety by adding a shock pad under the sports surface is a common denominator in all of them.
A recent white paper from Chris Nowinksi, Executive Director of the Concussion Legacy Foundation the nations pre-eminent spokesperson on sports related brain trauma, reported that 1 in 5 concussions involve the head hitting the sports surface. University research has shown that upon impact with the surface, a quality natural grass surface delivers substantially less impact energy to the head and body than an artificial turf surface laid directly over a stone base. "With escalating concerns about head injuries in sports, especially in youth, forward-looking teams like Harvard, Ohio State, UCLA, UNLV, UC Davis, University of Colorado, and 100's of high schools and parks, are using Brock shock pads to build state-of-the-art synthetic turf fields that mimic not only the footing of natural turf, but also the safety of natural turf", noted Dan Sawyer, CEO of Brock International. "After all, that is the goal of any quality sports surface. And the data proves that laying artificial turf directly over stone simply doesn't get you there."
Brock International, the nation's leading manufacturer of shock pad systems for synthetic turf, will install a record number of its safety underlayment systems in 2015, a trend that is expected to continue. "With the proliferation of synthetic turf in schools and parks across the country, it is time for a closer look at concussion safety," notes Nowinski. "With turf being primarily used by youth athletes, building a safer athletic field is now a core part of any concussion management plan. We can invest in prevention now, or our children can pay later."
Leading designers and engineers have lead this market shift by following the latest research linking head injury to the sports surface. Brock International recently held a 3-day educational conference on safety in artificial turf, with guest speakers ranging from field designers, brain specialists, independent test labs and university researchers. A study by the University of Tennessee Center for Athletic field safety showed that quality natural sports turf typically produces a G-max, less than 100. Synthetic turf typically produces G-max of about 160 after only a few years, often due to a lack of maintenance. This significantly increases the likelihood of brain and body trauma in the event of an impact with the artificial surface. Artificial turf over a Brock shock pad will deliver the same G-max range as that of a quality natural turf surface, which significantly reduces the likelihood of injury when compared to synthetic turf over stone. There are 4 areas of impacts in sports - head to body, head to head, head to ball and head to surface. Each area is a contributing factor to the overall concussion crisis. Adding safety to the surface is a "no-brainer."
About Brock International
Brock International is the leader in performance base systems for synthetic turf. With over 40 million square feet of Brock systems in play underneath athletic fields worldwide, the company engineers the best, safest and most sustainable playing surfaces in the world for athletes at all levels. Brock is an Official Education Partner of The Concussion Legacy Foundation, a Boston-based non-profit organization founded to advance the study, treatment, and prevention of brain trauma in athletes and other at-risk groups. In October 2011, Brock became the first company in the industry to have a Cradle-to-Cradle Certification CM for its combined drainage and shock pad product.
Visit http://www.brock-international.com to learn more.