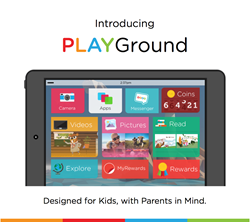 Additionally, the app comes with PLAYConnect, a remote control feature that allows parents to manage the app from their mobile phones
Los Angeles (PRWEB) December 03, 2015
Today PLAYGround Digital announced the launch of PLAYGround, a Children's Online Privacy Protection Act (COPPA) compliant app to give parents complete control over their child's internet use while they are using an Android tablet.
According to McAfee, nearly 70% of children say that they hide their online activities from their parents, and less than 47% of parents know what their children are doing online.
The new PLAYGround app solves this issue by allowing parents full supervision of their child's activities. Parents have control over which apps and websites their child can access on their tablets, as well as the ability to limit screen time with built in scheduling controls.
"Our goal is to make technology safer and more accessible for families," said PLAYGround Digital Co-founder and CEO Danish Ahmed. "PLAYGround is an app that provides a sandboxed area for our children to explore their favorite apps and websites. The controls we give parents help them to structure a suitable environment for their child to learn and play, whatever their age. Most importantly, the app gives parents peace of mind knowing that their children are protected online at all times."
PLAYGround gives children access to a camera and gallery app. It also comes with thousands of videos with educational and fun categories including: Entertainment, Science, Math, Arts, Fun Facts, Food, Nature, as well as 8 free ebooks. Children can, with permission, download any apps from the Google Play Store and parents can set a limit on how long these apps may be used. The web browser provides secure and child-friendly browsing, and parents are able to add additional sites that they approve of.
Additionally, the app comes with PLAYConnect, a remote control feature that allows parents to manage the app from their mobile phones through the PLAYMessenger app, which is available on Android and iOS. Time Out mode is designed to lock the tablet and temporarily prevent access, which may be useful for discipline purposes, or to simply to stop the child from using the tablet at the dinner table. Moreover, parents are able to view their child's usage history for apps, videos, and web browsing, as well as all the photos the child takes.
Furthermore, parents may use PLAYCoins to encourage their children to use particular apps - those with an educational value, for example. PLAYCoins, which may be spent on real or virtual rewards, including an iPod, or toys like electric scooters.
Interestingly, the multi-featured app has an adaptable interface suitable for children from 0 to 9 and up. As the child gets older, the interface evolves and they will be able to access new content, under the strict approval and supervision of parents.
"Digital media is evolving rapidly and it's difficult to adapt for anyone, let alone busy parents. We hope that PlayGround will provide parents with the tools they need to educate and keep their child safe online when using the family tablet," added Ahmed.
About
PLAYGround Digital was founded in 2014 by Danish Ahmed. The company is creating digital training wheels for kids and ensuring that parents and children have the educational tools to grow up with technology safely and to become responsible digital citizens. PLAYGround Digital's unique innovations and partnerships place them at the forefront of an industry in its infancy: communication apps for children.