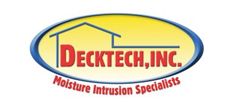 San Luis Obispo, CA (PRWEB) December 01, 2015
The experienced San Luis Obispo deck installers at DeckTeck are thrilled to announce the launch of their newly redesigned website. For more than 25 years, DeckTech has built custom, high quality decks for clients, in addition to their comprehensive deck repair and inspection services.
The new website design was created to list the various services DeckTech offers, and to showcase their portfolio of past work. Given the company's tremendous experience with decks, they proudly offer free assessments for real estate disclosure purposes.
Clients who choose DeckTech for a new deck installation can expect a high standard of professionalism, design, and craftsmanship at all times. The company builds decks to last, specializing in creating watertight structures that are backed with a warranty. For existing decks, DeckTech is the trusted source to bring your deck up to code and make sure everything is properly sealed and waterproofed. DeckTech client V.A. agrees, adding that "…our waterproofing improvements were executed on schedule and we have yet to receive a homeowner deck waterproofing complaint in the past eight years covering 53 homes…"
A major advantage of choosing DeckTech is their eye for design. The company recognizes that aesthetics and curb appeal are a huge factor in choosing to install a new deck, and will work with clients to make sure they have the deck of their dreams. Their intense attention to detail helps them ensure client satisfaction in every job they perform.
To learn more about DeckTech's premier San Luis Obispo deck services, visit their new website: http://www.decktech.org/