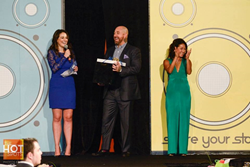 "Our team at Trustify is fully committed to giving the power and control back to battered victims, helping them find safety through their confidential, investigative services, and giving them peace of mind when they need it most." -Jennifer Mellon, VP
Washington, DC (PRWEB) December 01, 2015
Trustify is proud to announce the success of the seventh annual Walk this Way fashion show in Washington, DC, hosted by Becky's Fund, an organization dedicated to ending domestic violence.
Trustify and Becky's Fund have joined forces in an effort to give power and control back to battered victims and survivors of domestic violence. Trustify is also proud to announce the launch of the company's new initiative that offers pro bono services for domestic violence victims and survivors, allowing them to use Trustify's innovative technology, security, real-time observation, and monitoring services.
The seventh annual Walk this Way charity fashion show was held at the Embassy of Italy in Washington, D.C. and featured top male and female professional athletes from the D.C. metro area. The models included Washington Redskins Pierre Garçon, and Chris Baker; Washington Wizards Bradley Beal, Garrett Temple, and Alan Anderson; Washington Nationals Gio Gonzalez; DC United's Bill Hamid, Chris Pontius, Steven Birnbaum, and Sean Franklin; and former NFL stars Gary Clark and John Booty, donning looks from luxury Italian designer, Canali.
Becky's Fund Founder, Becky Lee, praised the night's events saying, "Tonight is a time for us to stand in solidarity against intimate partner violence. One in four women and one in six men are affected by intimate partner violence but many do not come forward...I hope you will join me in turning up the volume and raising your voice to rise above this silent epidemic."
The Walk this Way event directly raises funds for the Men of Code program, which engages and educates coaches and young male athletes about domestic violence, transforming them into leaders working to end domestic violence against women and girls.
Since its launch, Trustify has helped thousands of consumers in sensitive cases including domestic violence, missing persons, child welfare, and custody enforcement. Trustify CEO Danny Boice and Vice President Jennifer Mellon have made it their mission to give back to the community. Trustify staff are being trained by Becky Lee, Founder of Becky's Fund, to recognize cases involving domestic violence and abuse through the Trustify intake process and initiate steps needed to help those individuals swiftly and effectively.
Trustify is the world's first technology platform to connect clients across the United States with a network of highly trained and qualified professionals that offer real-time observation and digital monitoring. "Trustify is dedicated to social good," said Mellon. "We are proud of our partnership with Becky's Fund. Our team at Trustify is fully committed to giving the power and control back to battered victims, helping them find safety through their confidential, investigative services, and giving them peace of mind when they need it most."
For press inquiries, please contact:
Kathryn McQuade
kathryn(dot)mcquade(at)trustify(dot)co
202.552.1016