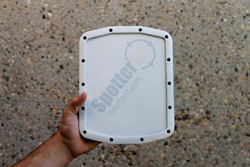 Emerging companies in the state, such as SpotterRF, provide opportunities for Utah students to continue to develop their science, technology, engineering and math education, and compete in a global marketplace--Utah Governor Gary Herbert
Orem, UT (PRWEB) December 02, 2015
SpotterRF today announced 2015 milestones in growth. In only its fourth year in the commercial market, the company now delivers its award-winning compact surveillance radar (CSR) systems through more than 60 strategic integrators to a global marketplace in 24 countries on five continents. Spotter radar now protects some 86,000 acres in North and South America, EMEA, and AsiaPac. This year's rapid growth necessitated expansion to its 23,000 square foot Utah manufacturing facility to accommodate production and growing staff. Supporting state objectives to develop a future workforce in science, technology, engineering, and math (STEM), SpotterRF actively works with local universities to support hiring graduating engineers and interns.
"The engineering industry is an important contributor to Utah's economy," Utah Gov. Gary Herbert said. "Emerging companies in the state, such as SpotterRF, provide opportunities for Utah students to continue to develop their science, technology, engineering and math education, and compete in a global marketplace."
"We are pleased to contribute to the local economy as we see our low-cost perimeter security systems address the needs of such a diverse group of customers around the globe," states SpotterRF CEO Logan Harris. "Both in military and private sector applications, the need for all-weather 24x7 surveillance protection is growing and bringing more customers to Spotter solutions."
SpotterRF has seen a doubling of its installation partner channel in 2015 alone. The growing list includes strategic integrators like Reutech, A-1 Fence, Climatec, Liedos, AST, Securify, and Avtec. Several industries have adopted Spotter radar solutions, including Electrical Utilities, Industrial Complexes, Federal Critical Infrastructure, Dams, Bridges, Oil & Gas, as well as US and International Military. Among its diverse customers are notables like Mt Rushmore, ExxonMobile, Maryland DOT Bridges, San Diego Dams, and a number of electrical utilities. See a video representation of SpotterRF installations here.
To its list of awards, SpotterRF recently added ASIS 2015 Accolades winner for its new CK2 narrow view radar. Building on the success of its wide area radar solutions, the new CK2 provides 100 meter, 20 degree, all-weather coverage for less than the cost of a SightLogix or FLIR thermal camera with similar coverage area. The unit installs in less than one hour and works where thermal cameras do not.
Growing demand for drone countermeasures have increased interest in SpotterRF solutions to detect and respond to unmanned aerial vehicles (UAV). See stadium system at work: https://spotterrf.com/2015/09/01/spotter-tracking-drone-in-stadum/
Spotter compact radar units come in many sizes, weigh as little as 1.5 lbs. each, use less energy than a light bulb (approx. 8W each), and can communicate with standard web browsers and Google Earth. Operator training takes less than 30 minutes in the field.
About SpotterRF
SpotterRF provides the world's most advanced Compact Surveillance Radar (CSR) system for perimeter security and force protection. Made in the USA and engineered for extreme conditions, SpotterRF technology is the most compact, lightweight, energy efficient, and cost-effective radar for elite warfighters and critical infrastructure requirements, such as electrical utilities. For a more information visit https://spotterrf.com/commercial-products/